It's March already, and all signs point to spring! Warmer temperatures, melting snow, returning wildlife, and daylight savings time! So, don't forget to change your... theme. Yes, your CRM theme! The new spring themes are in full bloom and now available:
Oriole · Pink Dogwood · Wild Violet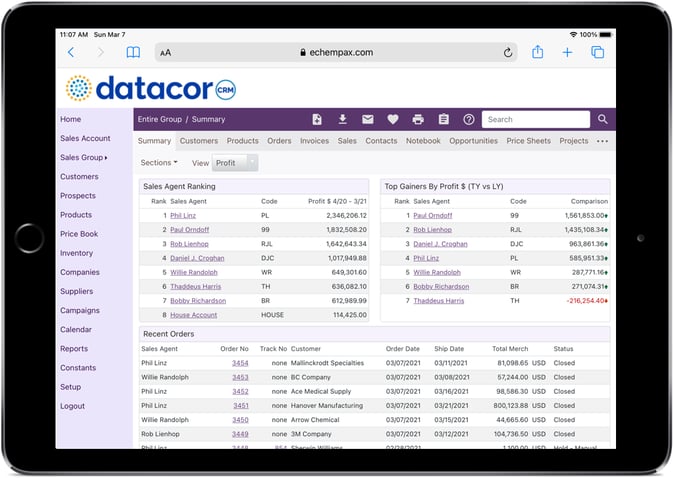 Why Use Themes?
Themes were introduced in October 2020, but we have found that there are many CRM users that are still unaware that a new user interface exists. There are numerous compelling reasons to take advantage of them:
They are free!
Each CRM user has full control of their theme.
They offer a more contemporary look and feel.
CRM pages are more readable.
The responsive design means the application will layout much better on smaller devices (like your cell phone).
A new theme is required when using CRM Maps.
Getting Started
It's incredibly easy to get started using CRM themes. It takes less than 30 seconds. The hardest part may be deciding which one to use. Just follow these four simple steps:
Login to Datacor CRM.
Select the Setup option on the content menu (on the left side of the page).
Towards the top of the Preferences page, select a theme from the dropdown.
Click/tap the Enter button at the bottom of the form.
That's it, you're done! Themes are specific to each CRM user and they can be changed as often as you would like.
If you are interested in learning more about them, there is a comprehensive video in the CRM Help > Getting Started > Datacor University > Webinar List topic, titled Datacor CRM Autumn Equinox. You can also click the image below to watch it. Use the Chapters menu in the video controls to navigate to different segments of the presentation.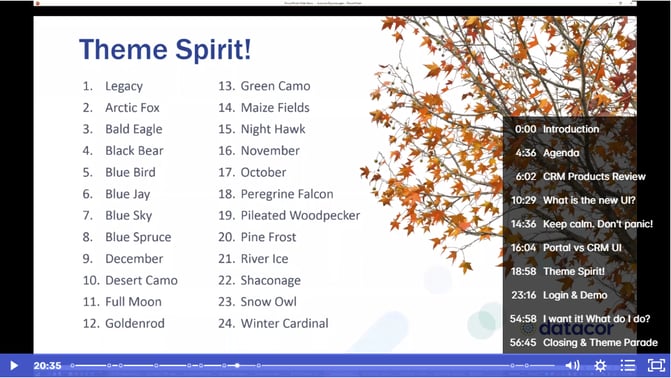 Click here to skip right to the part about getting started.
Questions
If you have any questions about themes and the new user interface, please don't hesitate to send them into the CRM support mailbox at echempax-support@datacor.com.
And one last reminder… most of us will be switching our clocks on March 14, one hour ahead! 😉
HAPPY SPRING!
The CRM Team