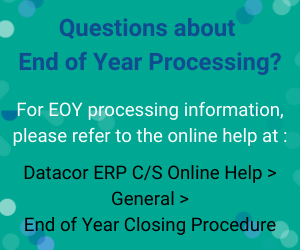 Datacor ERP C/S 2020-01 is now available! We've added numerous new features and improvements in this release that add tremendous value for you by allowing you to increase your processing efficiencies. From remark enhancements, PO module updates, to product lookup functionality, this new release has something for everyone. In this Newsbreak, we'll take a moment to highlight these three components of the new release, as well as discuss the Progress upgrade required for C/S 2020-01.
For a full walkthrough of the enhancements available in the 2020-01 release, view our C/S 2020-01 Update webinar recordings on Datacor University. Please access Datacor University through the Datacor ERP C/S Online Help while logged in to Datacor ERP C/S. Simply search "university" in the online help to quickly locate the help topic.
Combined Product Lookup
Datacor ERP C/S 2020-01 has streamlined how product values are searched / entered / selected. The separate Product Name and Product Code fields and three lookup buttons have been combined into a single lookup field and button, making your product searches much more efficient.

OLD:

NEW:




Products can now be looked up by code or name, all from a single field. Enter the entire code or name and the system will find the product when you leave the field. If you only know part of the code or name, then you can type what you know and press the down arrow to perform a lookup.

Users who prefer to see the name before the code can change User #118 Uber Order from Code to Name and the name will be displayed before the code.


Master Products and Non-Inventory products can be looked up by Code, Name, or Description.

Customer and Supplier Products can be looked up by Product Package Code, Customer / Supplier Product Name, or Description.


Products can be looked up by the fields selected in I/C # 106 "Product Lookup Fields". The default lookup fields are Product Package Code, Product Code, and Product Name. See the online help for more details on the available fields and how to update the system for I/C # 106 changes.
Remark Enhancements
At our InterAXions user conference, we host a "What's New & Top 10 Requests" session to hear from you about the features you would like to see in Datacor ERP C/S. One of these requests was to improve the ability to manage remarks. Based on this feedback, remarks have been enhanced system-wide so users can ensure accurate and up-to-date remarks are appearing on documents generated within the system. With these enhancements, you can now assign an active date range to remarks, ensuring that the remarks only appear on documents within the defined time period. You can also assign review dates to remarks so that the remarks can be evaluated periodically for relevancy. Several other fields are also available allowing you to further categorize remarks.
New Fields Associated with Remarks
From/To Month/Day/Year: These fields indicate a remark date window in which the remarks should be associated with transactions. If the transaction is outside of the defined range, the remark will not be added to the transaction. For seasonal remarks that apply every year, the year field can be left blank so the range will apply to every year. If the year fields are left blank, the from date must occur prior to the to date.
Use Date: This field defines the transaction date that should be used to determine whether a transaction is within the specified remark date window. The available options are Blank, Date 1, Date 2, and Today. When set to Blank, the system will not consider the remark date window when assigning remarks to transactions. Date 1 and Date 2 correspond to different date fields depending on the document. For example, the Bill of Lading has a Date 1 value of "Order Date" and a Date 2 value of "Ship Date". Each type of document may have different values for these two fields. Each document's value for the Date 1 and Date 2 fields is listed in the Available/Selected Documents browse. When the Use Date is set to Today, the system will determine if the transaction is within the remark date window based on the transaction's created date.
Next Review Date: This is an informational field indicating the next date that the remark should be reviewed to confirm it is still accurate. This field will not halt a remark from being added to a transaction if it has passed its defined review date. However, users can filter on remarks based upon review date to evaluate them accordingly. This review can be completed via Remark Maintenance or the Remark DTU attached to Standard Remark Maintenance.
Other ID 1-3: These are informational fields that can be used to categorize remarks based on your specific requirements.
Other Date: This is an informational date field that can be used to categorize remarks based on your unique needs.
Logical 1-2: These are informational logic fields that can be used to categorize remarks based on your needs.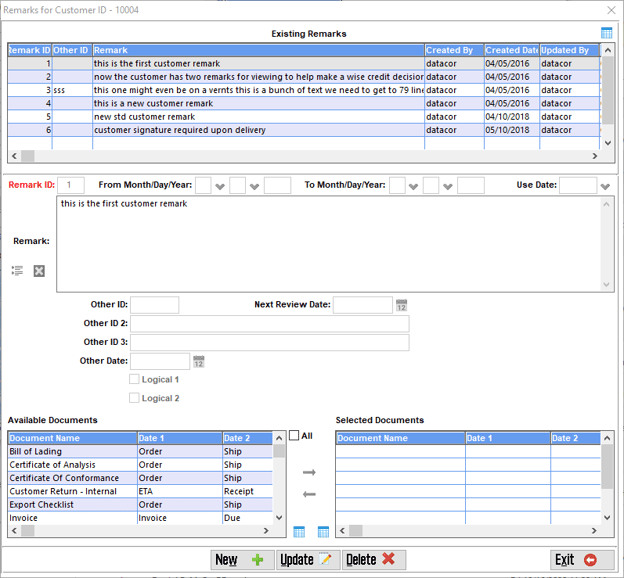 Additionally, Remark Maintenance has been updated to allow filtering on these new criteria: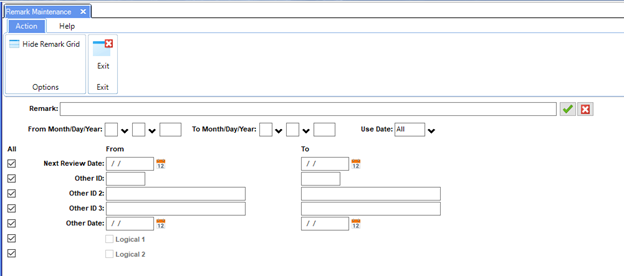 The Remark Grid has been updated to include Increment Next Review Date and Set Next Review Date: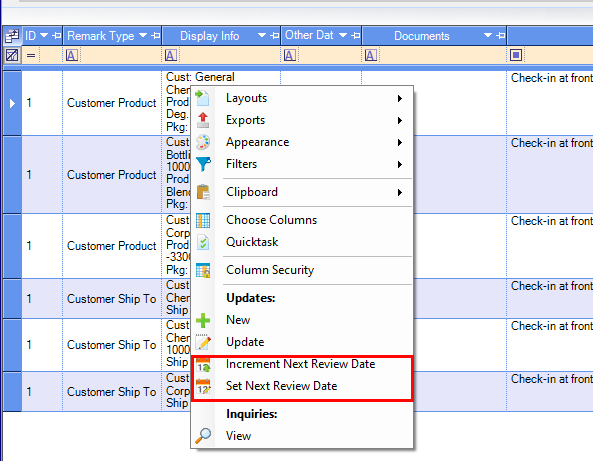 The Remark Next Review Date and other fields can be updated in Order Entry and in other areas where remarks are associated with transactions.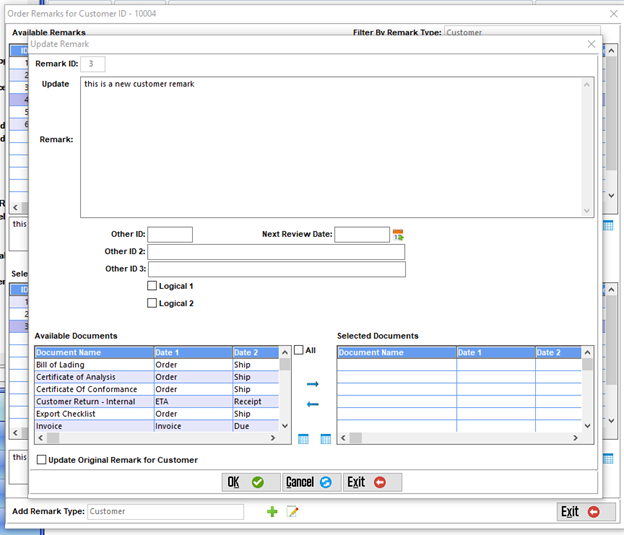 Purchase Order Module Updates
PO Module enhancements in C/S 2020-01 will streamline A/P processes in your organization. Below, we'll highlight the following new features:
New G/L Account and AFE/Project # capabilities
New "Zero Cost Inventory" option
G/L Account
When a purchase order receipt is posted via Post Receipt Accrual to G/L, the system debits an inventory/expense account and credits an A/P accrual account. The system determines which accounts to use based upon mapping defined in Cost Description - G/L Mapping Maintenance. This G/L Account field allows users to override the mapped G/L account for the debit (inventory) side of the posting. If a G/L account is defined against a line item, the system will use the defined account for the debit entry of the posted journal entry.
AFE/Project#
For those unfamiliar, AFE is generally used to track capital expenditure projects and is defined under Table Maintenance>Financial Reference>AFE/Project Maintenance.
If an AFE/Project number is defined against the line item, the G/L Account field will default to the G/L account associated with the AFE/Project number in AFE/Project Maintenance.
This functionality is available for both Inventory and Non-Inventory purchase orders. When P/O Module Control #32 - Post Non-Inventory Receipt Accrual to G/L is set to Yes, users must define a G/L Expense Account for each Non-Inventory product on a purchase order. G/L accounts can be associated with a Non-Inventory product in Non-Inventory Product Maintenance. The primary account will default into the G/L Account field and only selected accounts will be available to choose. For Non-Inventory products that are not defined within the system, the drop down will display all expense accounts to which the user has been granted access.
The screen capture below shows the G/L Account and AFE/Project # in PO Entry:

Zero Cost Inventory
On a Purchase Order, you now can select 'Zero Cost Inventory'. When this option is turned ON, the line item will be receipted into inventory at a zero cost, as opposed to the PO's cost. The cost will still pass through to the appropriate A/P accrual accounts for vouchering via Voucher Entry from PO Receipt, but the last cost for the product will be set to 0 and the new average cost will be calculated based upon a zero cost.
The Zero Cost Inventory field can be populated on the following screens:
P/O > Entry > Purchase Order Entry
P/O > Entry > Purchase Order Maintenance
P/O > Entry > Purchase Order Requisition Entry
P/O > Entry > Purchase Order Requisition Update
The screen capture below shows the Zero Cost Inventory field in PO Requisition Entry: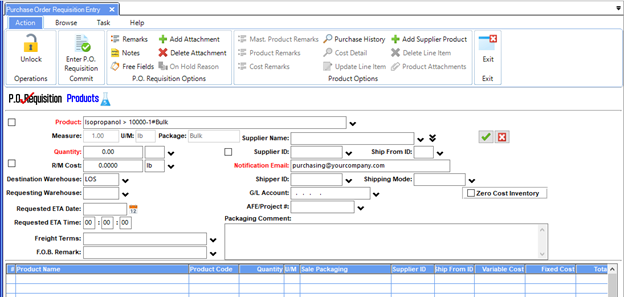 Upgrading to Progress OpenEdge Version 12.2

Datacor ERP C/S 2020-01 requires Progress OpenEdge Version 12.2. Installation of Progress OpenEdge 12.2 and the required database upgrade is billable and will require an authorized quote before the work can begin. The upgrade process involves first upgrading your system to Progress OpenEdge 12.2 while continuing to run C/S 2018-01; then after running in this environment for several weeks, you will be positioned to upgrade to the latest version of C/S. The time required to upgrade Progress on your system will be dependent on the performance of your server, the number of databases to be upgraded, the size of your databases, and whether a dump and load of the database is done to reclaim space. The Progress OpenEdge upgrade will be performed by Datacor and will require scheduled downtime as C/S will be off-line and not accessible during the upgrade.
If you are considering the C/S Transactional Data Purge Utility, you should start experimenting in Verify with this process soon. If you complete the purge of your data in your Live databases prior to the installation of Progress OpenEdge 12.2, then a dump and load of your Live databases can be performed to reclaim space and rebuild indexes. Information about the Transactional Data Purge Utility can be found here or in the online help at Datacor ERP C/S Online Help > General > Data Purge. Please email CS-Support@datacor.com if you'd like assistance with the Transactional Data Purge Utility.