As we enter August, it is clear that the Covid-19 'work from home' mandates have lasted much longer than we first expected. In the last six months, have you noticed your manual AP processes have slowed business down? If so, we have a great new solution for you to optimize payments and streamline AP. Powered by our partner Nvoicepay, Datacor ERP C/S now offers an automated payment solution with Datacor ePayments. ePayments saves you time, money and headaches by consolidating your disconnected payment processes into a single step to optimize payments for cost savings and generate net new revenue through credit card rebates. In this Newsbreak, we'll break down how this new solution increases visibility into payments and enhances efficiencies for your business by removing antiquated manual processes and errors.
Benefits of Electronic Payment Processing
Simplified AP Payment Process:
Single workflow for all AP payments (rather than separate workflows for ACH, Check, Virtual-Card)
Increased efficiency with reduced errors
Pay international suppliers across 170 countries in 140 currencies through the same simple process as domestic payments.
Weekly time savings of 4-40+ hours by reducing repetitive processes
Financial Results:
Significant cost savings if check payments are shifted to electronic payments
Cash rebates on virtual card transactions usually far exceed the cost of the solution
Reduced Risk:
Customer does not have to store the suppliers' banking data
Nvoicepay assumes liability for the payment
Better Supplier Relationships:
Suppliers get a range of payment options with detailed remittances
Supplier portal for increased visibility and a supplier facing support team
Key Differentiators of Datacor ePayments
Flexible Technology
Customizable Payment Approvals
Reporting for Multi-Level Enterprises
Comprehensive Services
Continuous Supplier Enablement
Automated Real-Time Reconciliation
Supplier Payment Support
Trusted & Secure
Payments Are Guaranteed, Bonded & Insured
Soc 1 Type 2 & Soc 2 Type 2 Compliant
How It Works
Now let's get to the technical details. In Datacor ERP C/S, the ePayments Process is as follows:
Select Vouchers to be paid with a payment method of ePayment
Upload selected items to Nvoicepay via Process ePayments
Approve/Exclude payments within Nvoicepay
Sync up Datacor ERP C/S with Nvoicepay via Complete ePayments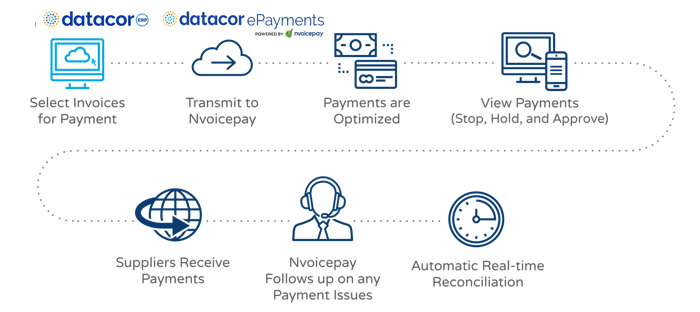 Detailed instructions and additional information on ePayments setup can be found in the Datacor ERP C/S Online Help under Accounts Payable>General.
How Do I Add Datacor ePayments to Datacor ERP C/S?
Reach out to Jason Griffiths with questions, request a demo, or a free payments analysis report to show you the ROI your company can expect from Datacor ePayments.
Additional Resources
On-Demand Webinars:
Information Sheets