In an effort to continue providing our customers the best-in-class functionality and services, we introduced and discussed many new Datacor ERP C/S features and developments at InterAXions 2018. Some of the notable enhancements include a new interface look and feel for Datacor ERP C/S and the new Software Changes Report. These new developments enable businesses to be more productive and efficient and gain better insight into their business.
Software Changes Report
Want to review changes to Datacor ERP C/S? You can run the Software Changes Report to see changes in new releases of Datacor ERP C/S. This report produces a list, by Module ID and Release Date (newest to oldest), of changes to Datacor ERP C/S that have been released. It includes the Menu Description, Issue Number, Change Description, and earliest release containing the change. Therefore, you can always view the latest changes and ensure you're utilizing all potential functions and features of Datacor ERP C/S.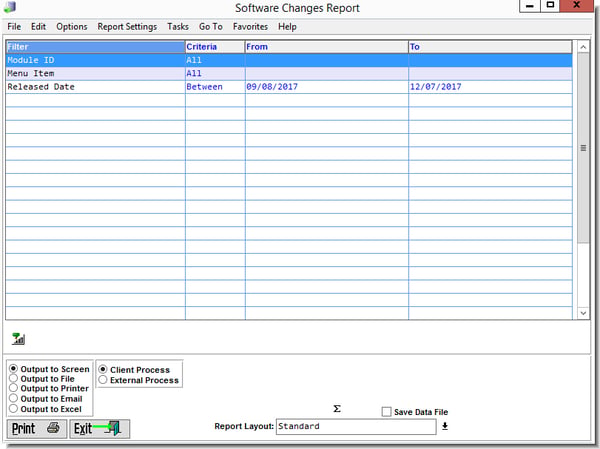 ---
New Interface Look & Feel
The new Datacor ERP C/S interface has a cleaner and more modern appearance. With this new tabbed interface, users receive the following advantages:
Easier Identification with Labeled Buttons
View Multiple Portals at Once
Easier Navigation Between Screens
Improved Window Management
Quickly See if Screen is Already Open - No More Hidden Screens
Improved Report Output to Screen with Report Name and Time Stamp
Increased Remark Visibility and Remark Update Capabilities
Run On-Line Help and eChempax within a Tab
Tabbed Interface
When accessing a screen, a new tab opens next to the original opened program. For example, the Customer Portal opens in a new tab next to the Customer Maintenance tab.

Side By Side Screen View
Users can easily arrange tabs side by side for easier viewing and analysis.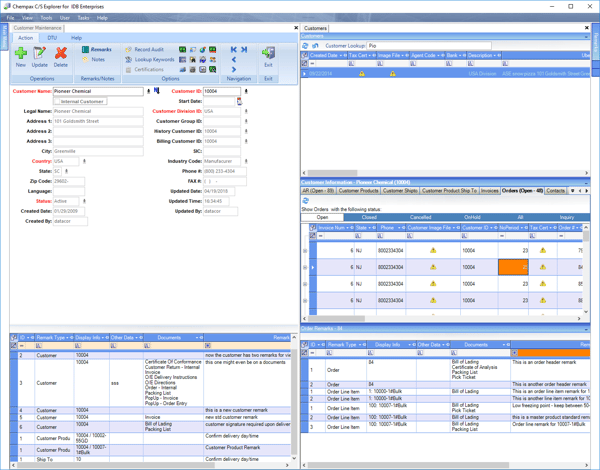 Ribbon Menu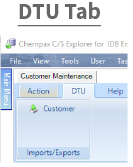 The new Datacor ERP C/S interface features a ribbon like menu, similar to MS Office, which provides users with a more intuitive menu. All menu options have a graphical icon and are clearly labeled so users can identify the menu options much faster. Menu options related to each ribbon category are grouped together making it easier to find what you are looking for.

Remarks Grid
The new Datacor ERP C/S interface includes a new remarks grid at the bottom of the screen showing all related remarks for a selected Customer, Suppler, Product, Order, etc.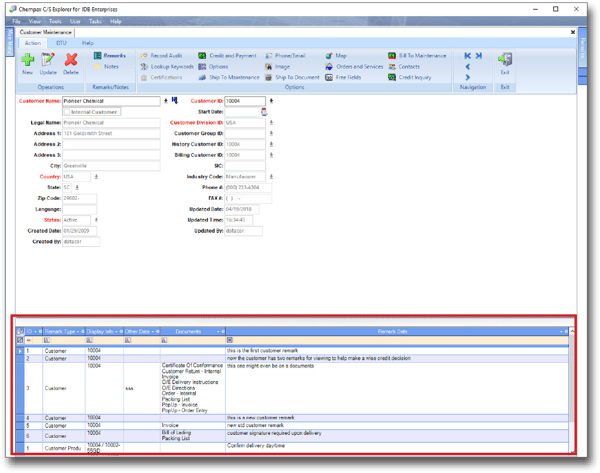 Filter Remarks
Find a specific remark(s) quickly by filtering data to show only those remarks containing entered text.

Edit Remarks
Quickly and easily edit remarks straight from the grid itself via the content menu mouse click.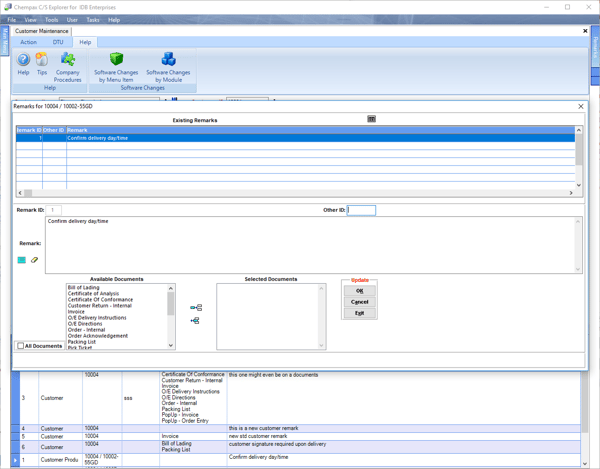 ---
Customer / Supplier / Product Drop Down
The Customer/Supplier/Product Drop Down has been updated to allow a user to toggle between showing All or Only Active Records by pressing F9.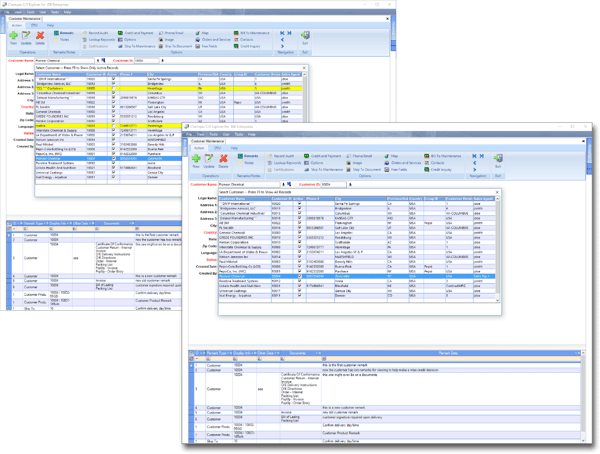 ---
Updated Screens
The Datacor ERP C/S development team is working hard on updating all screens to the new interface. Screens will be rolled out as soon as they have been converted. The following are examples of screens that have been updated.
New Remarks Maintenance
Streamline the maintenance of master data remarks with the new Remarks Maintenance program. Users can view all master data remarks from a single screen and update regular and standard remarks.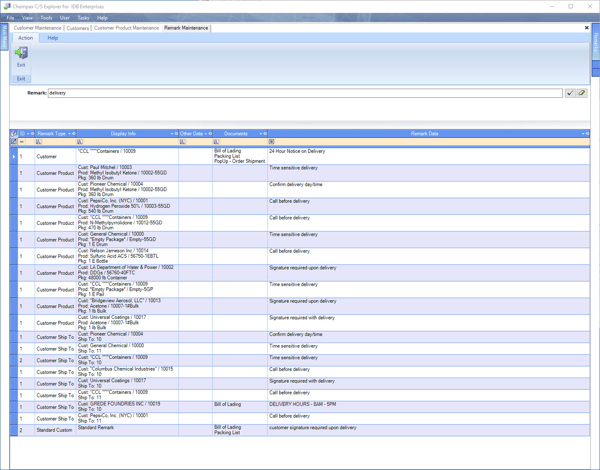 Transaction Remarks Visibility
A remarks grid has been added to the screen showing all header and trailer remarks for the selected transaction. Quickly review all remarks and associated documents in a single grid without having to do multiple drill downs.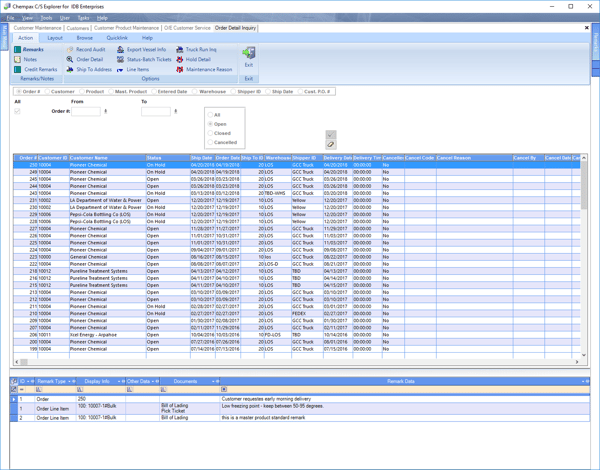 ---
Reports
Order Entry Report
All NRI report screens have been updated to the new interface look and feel.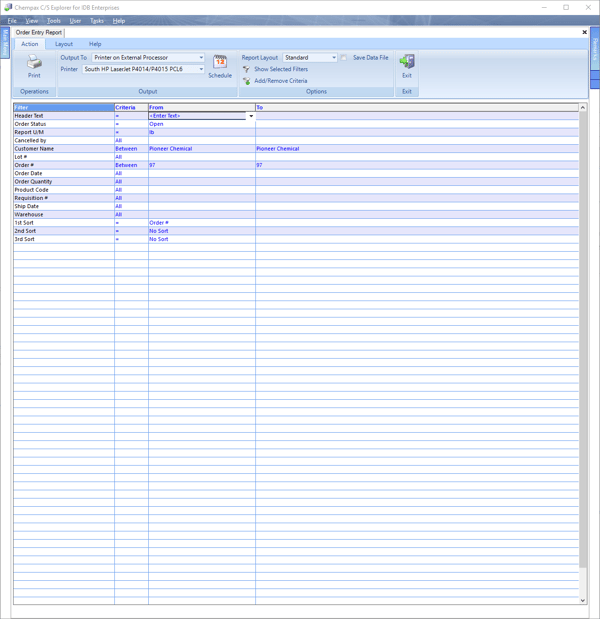 Report Output
Report Output Screen opens in a tab with a time stamp to help differentiate between repeat output results(ex. 08:18 vs. 08:21).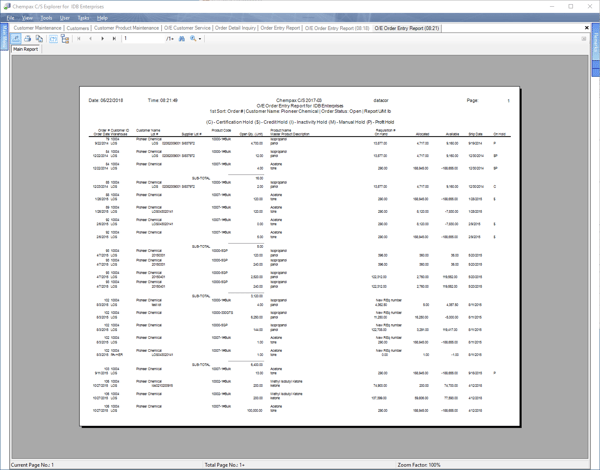 ---
Additional Updated Screens
The following images are additional examples of screens that have been updated with the new tabbed interface. The updated interface will be included in Datacor ERP C/S 2018-01, scheduled for release in Q4 2018.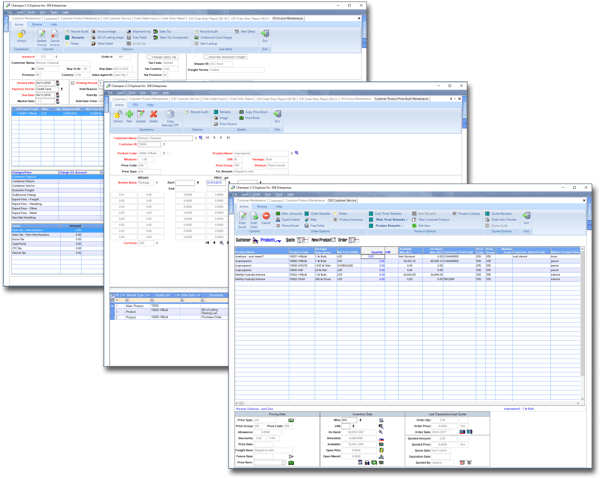 ---
If you have questions, please e-mail cs-support@datacor.com or call us at (973) 822-1551.