Last week, we shared some great features and updates to Datacor ERP C/S in the different modules you use each day. This week, we're taking a look at the new System features now available! Read on to learn more.
As always, to learn more about any of the features below, please head over to the Datacor ERP C/S online help.
Main Menu – Close Tabs
What's New? Added a "Close All" and "Close All Except This Tab" option to tabbed programs
Why Should I Use It? Easily close tabs that are no longer needed.
Navigation Panel – Save Screen Settings
What's New? The layout of the main screen can now be arranged based upon personal preferences and saved for future logins.
Why Should I Use It? Datacor ERP C/S will open the way want you want, saving you time each day.
Auto-Launch Items
What's New? Load specific programs automatically upon login based on user preferences.
Why Should I Use It? You can dive into your work immediately upon startup.
I Want to Learn More!
What Modules Can I Auto-Launch?
All Portals
Tab enabled programs (indicated by appearing in bold text on the Main Menu)
How Do I Save Auto-Launch Items?
To save Auto-Launch items, users can open the desired programs they wish to include and right click on any of the tab headers to save the Auto-Launch items.

Toggle Between All and Active Records
What's New? Allows you to toggle between viewing all records (active and inactive) and viewing only active records.
Why Should I Use It? Simplify viewing active records if there is a large number of inactive records in the system.
I Want to Learn More!
Press F9 to toggle between All and only Active records:
Customer
Product
Supplier
Customer Product
And more

Tabbed Inquiry Layouts
What's New? Tabbed inquiries now have the ability to save a screen layout.
Why Should I Use It? Reduce time running inquiries by having options pre-selected.
I Want to Learn More!
Select "Save/Save As" on the Layout tab to save a screen layout; optionally check "Refresh Browse on Load of Layout" to load details automatically.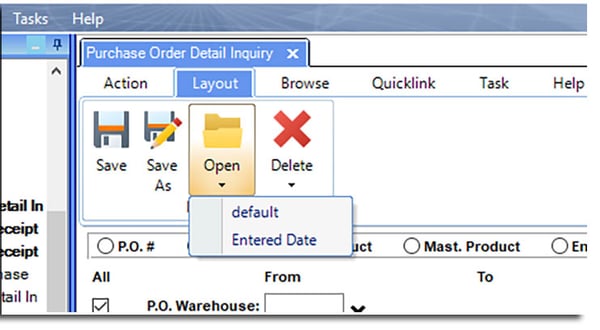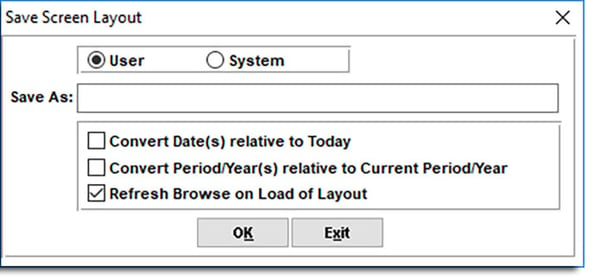 Remark Grid Visibility
What's New? New "Show/Hide Remark" Grid Tool.
Why Should I Use It? Increase visibility of remarks.
I Want to Learn More!
The default visibility of the Remark Grid is defined by User Control #112 - Default Remark Grid Visibility. Users can also show or hide the Remark Grid on tab enabled screens via the Show/Hide Remark Grid button on the ribbon.

Remark Maintenance
What's New? Search across all master data (T/M) remarks throughout the system. User Control #109 allows users to add or update remarks via the context menu right from the Remark Maintenance screen.
Why Should I Use It? Maintain remarks more efficiently.
Embedded URL for Power BI
What's New? View Power BI Dashboard inside Datacor ERP C/S.
Why Should I Use It? Switch between Datacor ERP C/S and Power BI more efficiently without opening another application.
I Want to Learn More!
Custom Menu Maintenance (A/D > System Configuration)
In addition to opening power BI it supports:
Email Support
What's New? Route C/S support to internal support rather than immediately to cs-support@datacor.com by modifying the default field value in System Control Maintenance. Multiple email address may be entered in this field using a semi-colon (;) delimited list. Each email address will be sent the support item when emailing directly from Datacor ERP C/S.
Why Should I Use It? Review and coordinate support matters internally before contacting C/S Support.
Automated File Path
What's New? When generating Invoice/Credit/Debit Memo and Price Change Letter documents via Automated Output, a PDF copy of the generated documents can also be saved to the defined path.
Why Should I Use It? Save a copy of the document on your network for reference.
I Want to Learn More!
Crystal Report Settings (A/D > System Configuration)
The Automated File Path also supports the use of transactional data tags. These transactional data tags will be replaced with the actual database values when the documents are generated.
Invoice/Credit/Debit Memo

Fields from:
INVOICE-HDR, CUST, CUST-SHIPTO,CONTACT, SALES-AGENT, SALES-AGENT-2, SHIP-FROM-CONTACT

Price Change Letter
Document Output to File Using Date/Time Tags
What's New? The Output to File option supports the use of date/time data tags.
Why Should I Use It? Prevent overwriting files by using the date/time tags.
I Want to Learn More!
Output to File supports the use of the following date/time data tags.
%YEAR% - Four-digit year
%MONTH% - Two-digit month
%DAY% - Two-digit day
%TIME% - Six-digit time formatted as HHMMSS
These values are resolved at print time.
Automated Delivery of Custom Crystal Reports
What's New? Rather than having to print the report to a PDF and then attach it to an email, you can use the automated delivery option to email a customer Crystal report directly from Datacor ERP C/S.
Why Should I Use It? The ability to distribute data to customer and supplier contacts directly from Datacor ERP C/S is a huge time saver. The Automated output selection is available for many standard documents and reports throughout Datacor ERP C/S. This feature for automated document delivery by email to Customer and Supplier contacts can now be configured for Custom Crystal Reports in Crystal Menu Maintenance.
Lot Maintenance – Country of Origin
What's New? The ability to select country of origin has been added to Lot Maintenance, Physical Inventory Entry, Stock Transaction - Create Inventory, Warehouse Maintenance, Batch Ticket Entry, Batch Ticket Maintenance, Quick Batch Receipt Entry, Purchase Order Entry, Purchase Order Maintenance, Supplier Ship From Product Maintenance. Additionally, the following fields are available:

Original Product
Original Lot
Original Supplier
Ship from ID
Original Manufacturer

Why Should I Use It? Easily access and provide country of origin information to your customers when requested.