We're excited to share we've released two more .NET programs in the Administration Module: Server Tasks (AD7) and Server Tasks History (AD8). These improved programs allow you to easily schedule automatic runs of .NET reports and report definitions and view a status log of all task steps and tasks that were run within the last 30 days. In this Newsbreak, we look a little closer at these two updates.
Schedule Automatic Report Runs
Job Procedures and Job Queue have been replaced in .NET with an improved and streamlined approach. The new Server Tasks (AD7) provides the ability to schedule automatic runs of .NET reports and report definitions. There are five main improvements from its V6 counterpart:
.NET reports include a Distribute By option which indicates if the report should be distributed by sales agent, warehouse, or division. Using this feature, only one step is needed to email and distribute the same report. In V6, separate jobs were required.
The service for server tasks is always running and no longer requires a user to launch Datacor ERP in order for the task to be triggered.
Additional settings are available to fine-tune the frequency and exact days the reports should be run.
All of the settings saved on a report and report definition will automatically be used on the report run including the printer and number of copies. These fields no longer need to be manually added on a task step.
Datasheet allows a user to quickly view the header level information of all saved server tasks.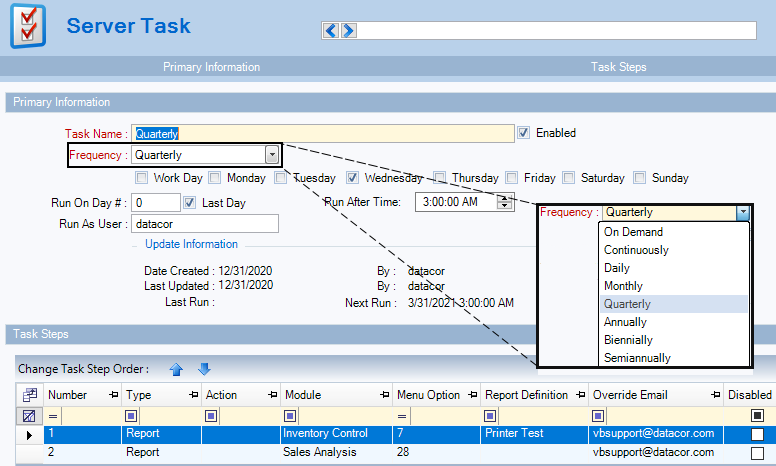 Server Tasks History (AD8) displays the status of all task steps and tasks that were run within the last 30 days. Filter tabs provide an easier way to view tasks by status: Complete, Failed/Canceled and All. As with other .NET grids, this information can be sorted and filtered by any column in the grid.
Upcoming Features
Additional features are being planned for AD7.NET which may include scheduling database maintenance tasks such as compact/repair and archiving. A conversion tool is also being developed to assist in converting your current V6 jobs into .NET tasks.
Note: The Server Tasks will only run reports that are available in .NET and have been configured to be used with AD7.NET. If the report does not show in the AD7.NET Module and Menu Option lists, then the original V6 Job Procedures program must continue to be used instead.
How to Access New .NET Programs
To take advantage of these new .NET programs, you must be using a software version of 2/16/21 or later. Your server must also be configured by Datacor prior to running any server tasks. If your server is not hosted by Datacor, we may also need the assistance of your IT staff to complete the process. As with all new .NET programs, an Administrator must enable the programs in .NET. (If unfamiliar with this process, refer to the .NET Help File index "Transition to .NET" and select the topic "Open .NET Program for the First Time".) Permissions in AD2 might also need to be reviewed to ensure that the appropriate user groups can access these programs.
How to Use New . NET Programs
The .NET Help File includes step-by-step instructions on how to use AD7.NET as well as other .NET programs. Open AD7.NET and click F1 to select the topic called "Schedule Report Runs".
Reminder:
The What's New listing in the .NET Help File informs you of new programs and features that have been added over the last four months. The Latest Post index lists all new help topics that have been added over the last four months. For example, when the AD7.NET conversion tool is completed, it will be announced on the What's New Listing and step-by-step instructions will be filed under Latest Post.