Four Purchasing (PO) programs have just been released in VB.NET providing new features and functionality not available in Legacy. In this Newsbreak, we'll breakdown the new PO programs and introduce a brand-new .NET only module - Purchasing Requisitions (PQ). Lastly, we'll share how the .NET Help file has been improved.
Purchasing (PO) Module
Purchase Orders (PO1), Open Purchase Order Maintenance (PO4) and Purchase Order Receipt (PO3) have been revamped in .NET and offer additional features that are not available in Legacy.
(Note: To use Purchase Order Receipt (PO3) in .NET, the custom option POSETCOSTATTIMEOFRECEIPT must be turned on. Contact Datacor to learn about the set up of this custom option if you are not already using it.)
New .NET-only Cost Worksheet which allows a user to:
Enter cost categories for the purchase order as a flat dollar or percentage type.
Indicate the method that each flat dollar category should be apportioned – by Package, Weight, PO or Raw Material Value.
Add categories, filter, sort and arrange the Cost Worksheet grid based on business needs and then save this layout as a template for future use.
An improved supplier products grid which:
Makes it easier to search and find products using the All, On Order and Received filter tabs.
Allows the costs entered in the Cost Worksheet to be excluded by line item.
Provides up to date totals of the number of products and total on the purchase order.

New .NET–only Reverse Button (PO3) - Dual Functionality
Allows any line item on a receipt to be reversed and automatically rebuild on order amounts. This is not offered in Legacy. In addition, the button can be used to reverse an entire receipt and replaces PO27 allowing a streamlined approach to handle reversals directly in PO3.
New .NET-only Tiles
Display and update information each time a supplier product is selected in the supplier product grid. The three tiles can be swapped, resized and hidden and this configuration can be saved for future sessions.

PO1/PO4: The tiles allow the user to view and enter/edit information for non-inventory items, order and supplier product remarks and current and future costs for each line item. Future Chempax enhancements will update the Cost tile to allow unlimited number of cost categories to be added and work with new AP programs.

PO3: The tiles provide the ability to view and enter drumoff and new lot information, category costs, and order and supplier product remarks for each line item.
View Details Buttons
Easily view and add complete, permanent and temporary supplier ship from information (PO1/PO4) as well as new supplier products.
.NET Datasheet
Easily view, sort, and filter all entered purchase orders and purchase order receipts.
.NET Ribbon Enhancements
The PO4 .NET ribbon includes buttons to provide easier access to close POs , reopen closed POs, print, release a blanket order, and access Google Maps or MapQuest to plan routes or get directions in one central location.
Future Cost (PO6)
New .NET-only features have been added to Future Cost (PO6) making it easier to maintain costs in VB.NET. This new program allows multiple future costs to be entered for the same supplier product. Three methods can now be used to add and update costs:
A user can import costs and header information into the PO6 Datasheet;
View and modify future costs directly in the Datasheet; or
Manually enter the costs in Detail View.
PO6 now supports reversals if a cost was applied in error. Costs can be generated, applied and reversed all from the same program using new buttons in the PO6 .NET ribbon.
Supplier Product Costs Grids
There are two grids in the Supplier Products Costs section. The upper grid, which lists all of the filtered supplier products, allows the Future RMC costs to be changed for all of the products. The lower grid populates with all cost categories for the selected product and then allows each cost category to be changed. Depending upon the cost category type, the cost can be entered as either a flat dollar or percentage. Additional cost categories can be added as well.

---
Purchase Requisitions (PQ) Module

The initial release of .NET-only Purchase Requisitions programs is now available. It involves a 3-step process from entering purchases, approving each line item and then generating a purchase order. We welcome feedback on this brand new functionality.
Highlights include:
The ability to create and update requisitions across multiple suppliers or a single supplier. Simply pick a product or enter a non-inventory item and then enter the quantity. If a supplier was not selected for the requisition, a supplier can be noted for each line item during entry or in update mode.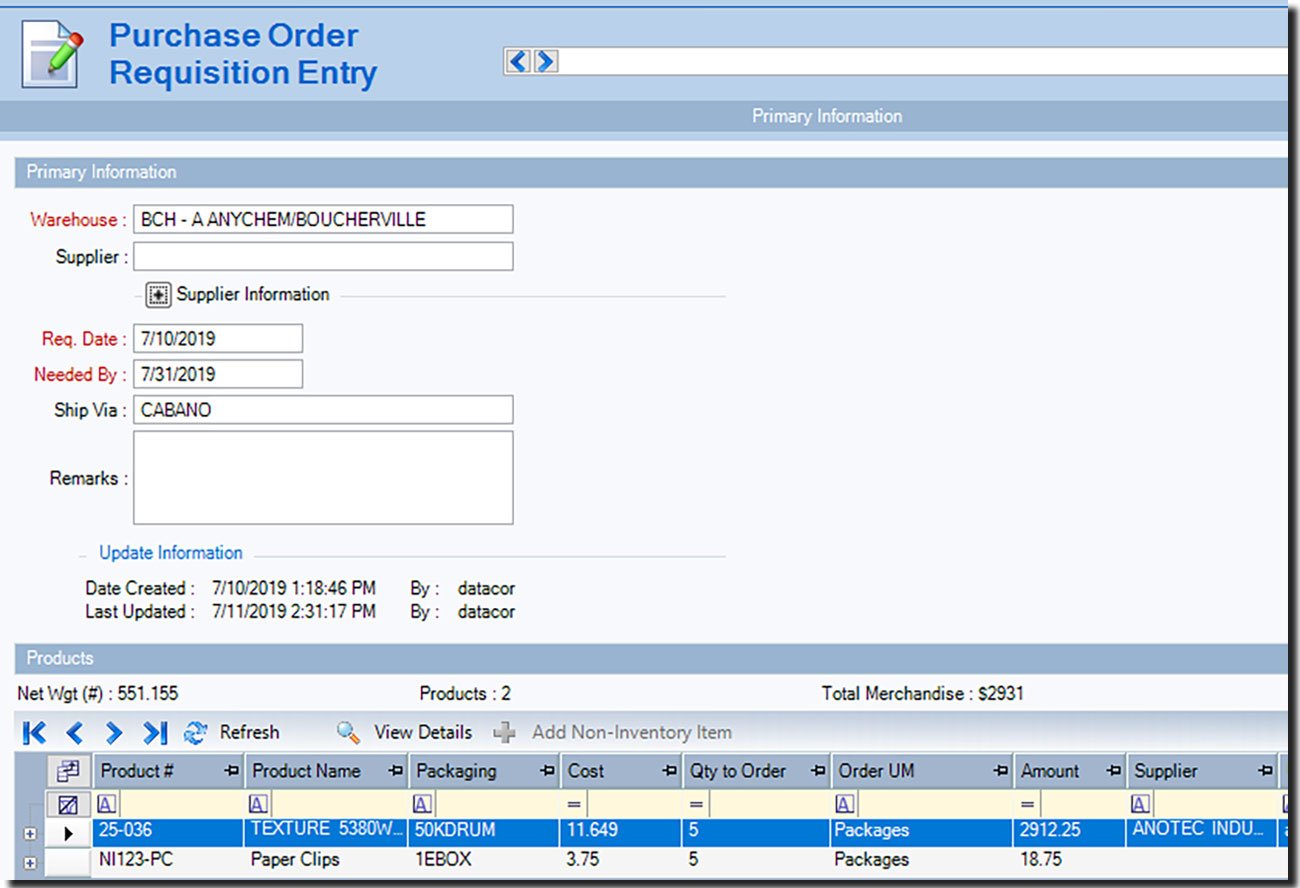 Limiting a user's ability to approve line items based on pre-defined approval limit and warehouse. These limits are set in the updated Groups and Permissions (AD2) program.

Easily view all products in a grid to determine which should be approved or rejected. Based on user action and approval limits, the status will change to Rejected, Approved or Partially Approved.
Datasheet showing line items that have not been approved or have been approved and partially approved up to the user's approval limits will display.

The ability to select which approved line items to purchase and then automatically generate a purchase order. This removes the step of entering a new purchase order.
---
Context-Sensitive Help
Context-sensitive help allows users to automatically view a help topic that is related to the task. Rather than searching the .NET Help file, simply presses the F1 key and based upon the .NET program and mode being used (such as New or Update), Chempax will display the corresponding Help topic for this task.
For example, if a purchase order will be created, click the New button in PO1 and then F1. The Help File will open and display the help topic called Enter a Purchase Order. If a help topic cannot be determined, the Help File will still open and allow you to search using the three different options described in the Using the Help File topic. This functionality will be expanded as help topics are added.
---
To take advantage of these programs and all other new .NET features, update your software or send an email to vbsupport to schedule an update. Prior to opening any new .NET programs, we highly recommend that you refer to the .NET Help File (Help > Online Help) and review the topic called Open a VB.NET Program for the First Time. Once the program has been verified to use in .NET, step-by-step instructions for each new program can be found in the .NET Help File. Search by term (i.e. PO1), table of contents (i.e. Control Purchases and Costs) or index (i.e. New .Net Functionality and module name.)
Haven't tried .NET yet?
An Administrator can simply give the Administrator user group permission (AD2) to use AD28. This will allow the .NET interface to be launched from Favorites > Use .NET Interface. Once VB.NET is open, use the Online Help and search for "Transition Legacy User to .NET" to get further instructions on how to transition all users, customizations and report definitions to .NET.