One of the best parts of InterAXions is sharing new features and updates available in Datacor CRM with our customers. In this post, we'll give a run-down of some of these new features and highlight how they will improve your experience in Datacor CRM.
What's New: API
Auto create Datacor CRM opportunities, notes, and contacts using information entered on corporate web forms.
Request Datacor CRM product information for display on corporate website.

What's New: Automated Database Download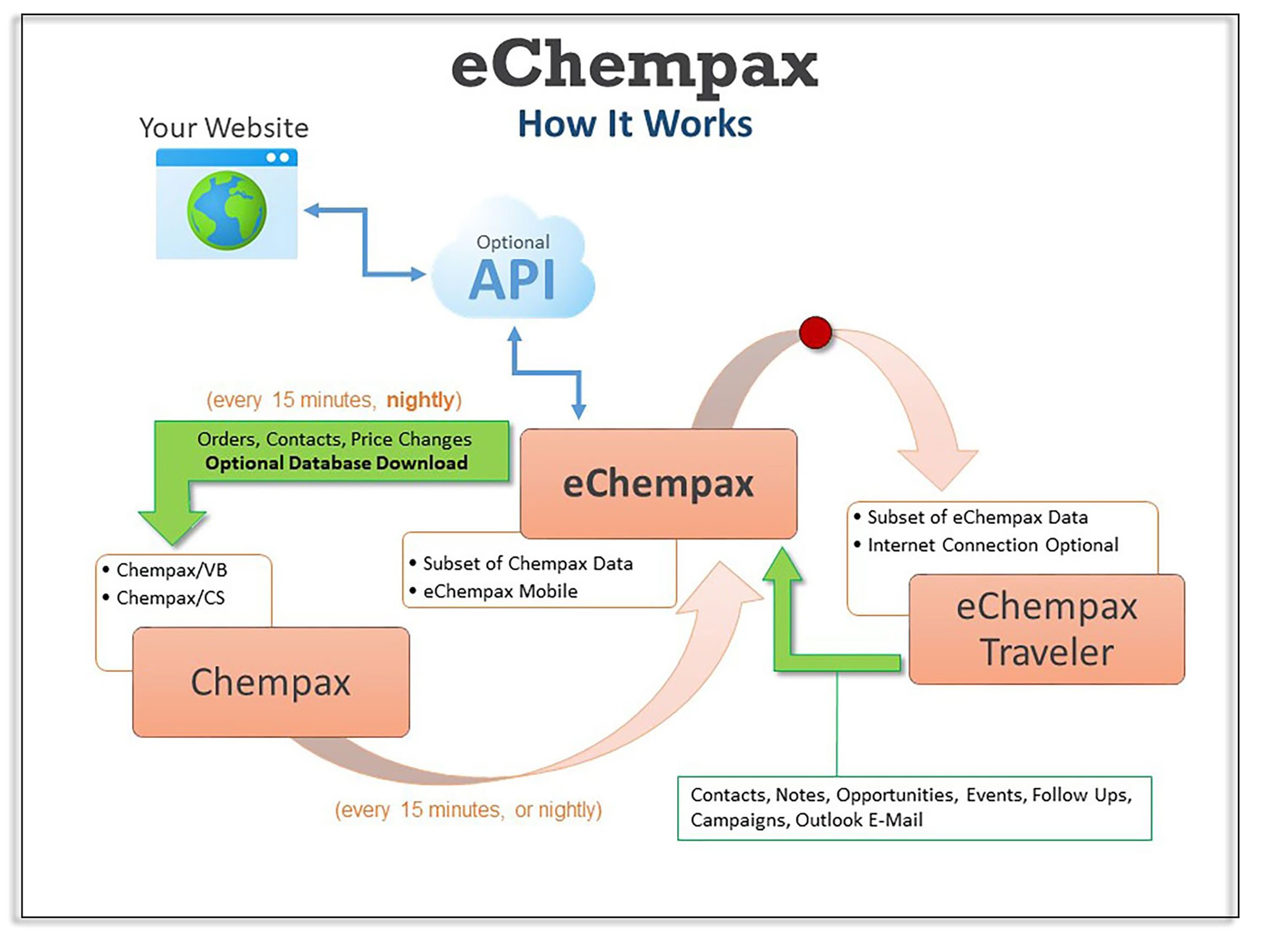 What's New: Note Break Pricing
Quantity price breaks are now available by product in a Note. These are available in both Traveler and Datacor CRM.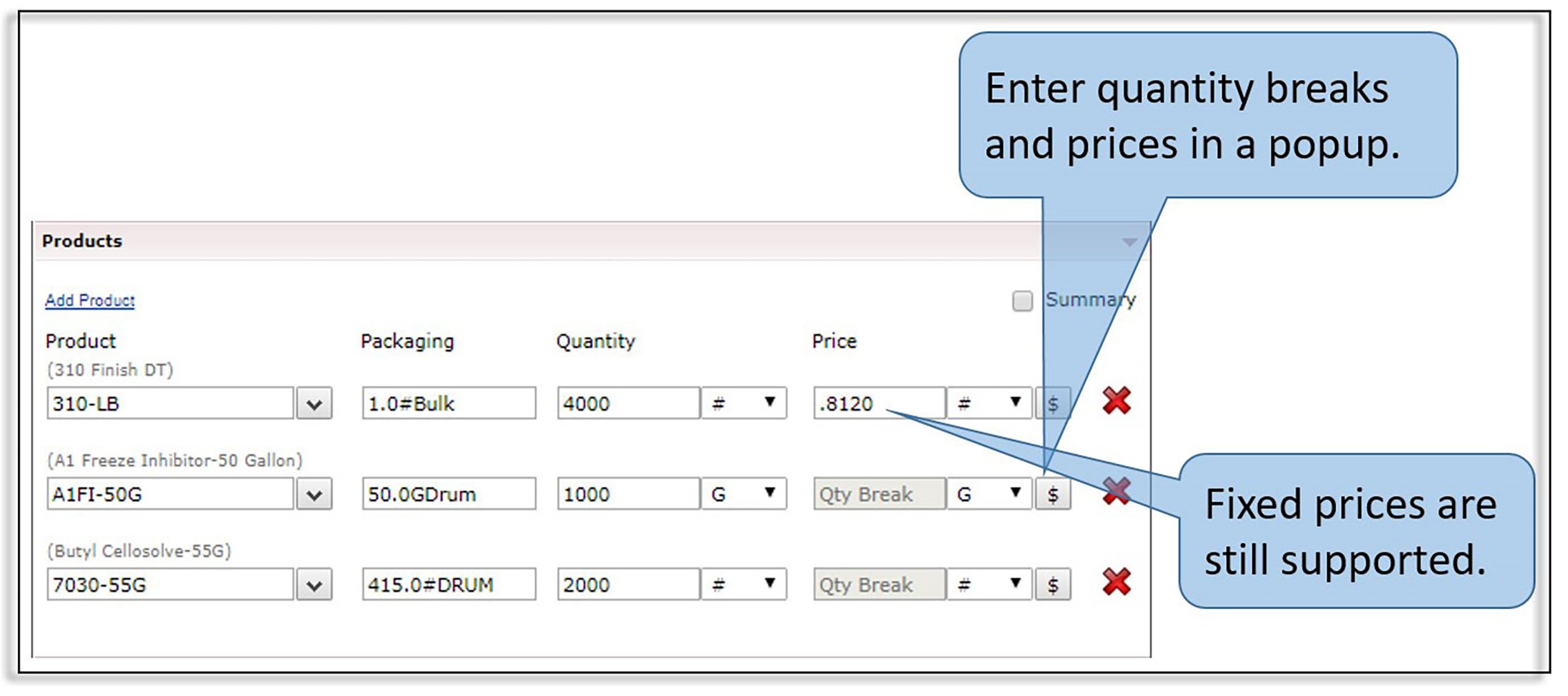 What's New: Orders
Several great options have been added to the views of customer orders in Datacor CRM. These are:
System option to display and filter Chempax C/S blanket order information (previously ChempaxVB only). This option activates features that allow for the blanket orders to be identified and filtered.
Display blanket order releases on order detail pages. A blanket order indicator is displayed on the order detail page.
System option for ChempaxVB cancelled orders. This allows cancelled orders to be visible in Datacor CRM.
User profile option to allow for viewing customer orders for a supplier. This is a new user profile option that determines if the user can view customer orders associated with a selected supplier.
Include product free fields in the Orders with Products, Excel download.

ChempaxVB - PRODUCT.FREEFIELD1, PRODUCT.FREEFIELD2, PRODUCT.FREEFIELD3
Chempax C/S - PRODUCT.FREEFIELD1, PRODUCT.FREEFIELD2, PRODUCT.FREEFIELD3, PRODUCT.FREEFIELD4

Filter order tabs by customer group. This allows the user to filter the customer lists (by customer level properties), and then apply that filter to the order list (where the customer level properties are not explicitly available for filtering).
What's New: Sales Analysis - Economic Position
There is a distinct advantage of knowing your company's position in the business cycle - you can better forecast and better plan for the next phase. Economists at ITR Economics have developed a theory of the economic business cycle based on rate-of-change calculations, identifying four distinct phases:
Phase A:

Advancing

(economic upswing)
Phase B:

Best

(conditions are booming)
Phase C:

Caution

(economy growing, but at a slower pace)
Phase D:

Danger

(downward stage)
Datacor CRM has developed the analysis that allows you to see exactly where your company is in the business cycle based on the ITR rate of change calculation. Knowing where you are in the cycle will help you make the right decision for expansion or contraction.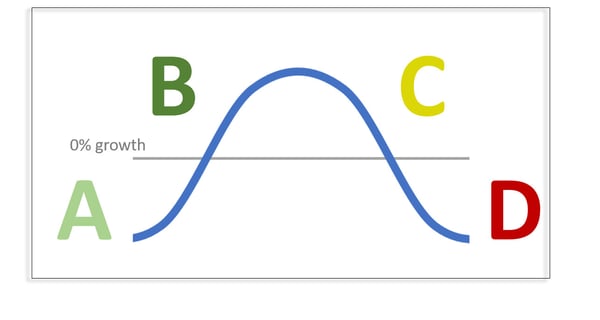 The Sales Performance Panel in the Datacor CRM Traveler Center now displays your company's economic phase.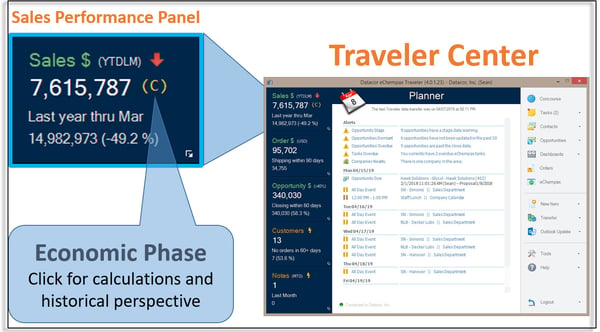 Clicking on the phase letter allows you to drill down to the calculations and historical perspective explaining your phase position.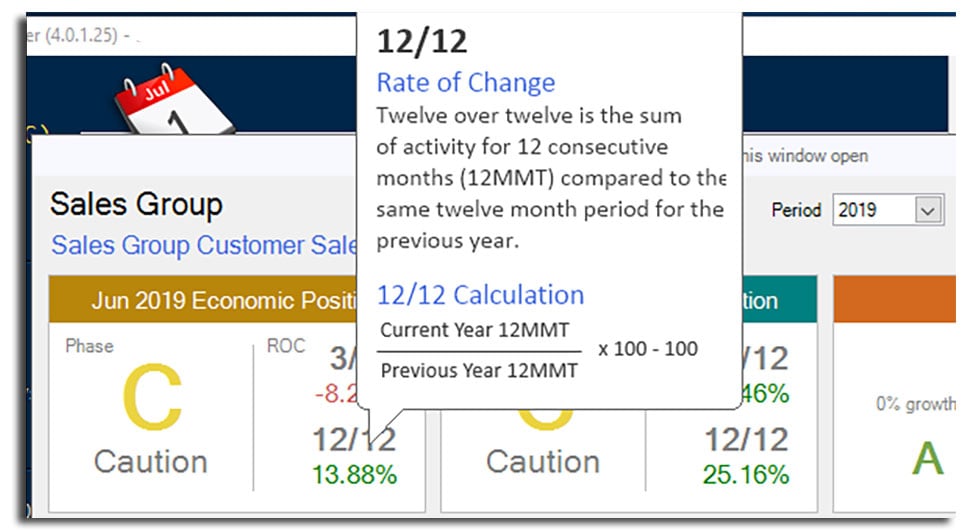 This data is available across business segments, wherever sales history is offered:
Customer Division
Territory
Industry
Product Division
Product Class
Any customer or product level property
What's New: Datacor CRM Traveler Sales Agent Dashboard Improvements
Sales Agent Energy Data
The Sales Agent Dashboard now displays sales agent energy data with options to display associated charts and notes.
What is Sales Agent Energy?
Energy measures how much time and effort we are spending on customers, prospects, and as users. The Energy rating is based on note history and is computed using energy rules, where a value is assigned to each note type. For example, a phone call may have a weight of 1, and a visit may have a value of 5 (requires a lot more energy). Energy ratings are computed for customers, prospects, and users.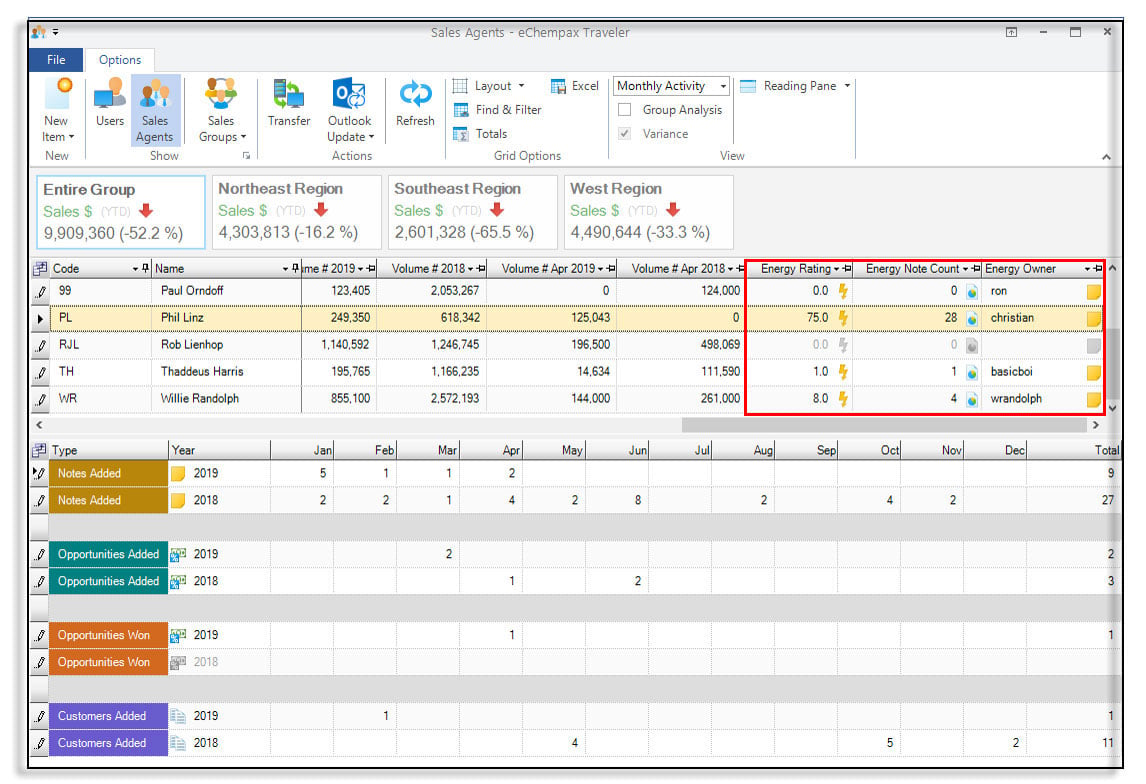 Dashboard Views
Monthly Activity view with options to display associated items and analysis such as:


Notes Added
Opportunities Added
Opportunities Won
Customers Added

Energy vs Sales view
What's New: Datacor CRM Traveler Map Improvements
Google API performance improvements.
Traveler proximity improvements including accuracy, configurable proximity distance, proximity distance indicator (red circle).
Alert for companies nearby, based on current location or defined zip code.

Like other Traveler alerts that can be optionally displayed on the planner page. This is a notification that other companies are in the area (based on device location settings and proximity distance).

Map note and opportunity companies - Plot notes and opportunities on the map. For example, plot visits, service calls, or opportunities in a given stage of the sales cycle.
Map mouse click option to display companies nearby - Click the map to view other companies in the clicked area, based on proximity distance. Useful in pre-call planning if traveling to another city.
Tools > Current Location option - Display the current location on the map, with other companies nearby. Based on device location settings.