Five new programs have just been released in .NET with additional features and functionality compared to their Legacy counterparts! In this Newsbreak, we're going to dive into these programs, AP Vouchers (AP1), Select Item to Pay (AP2), Cash Receipts (AR1), Cash Receipts GL (AR2), and Future Price Maintenance (PR1).
Prior to using the programs in this Newsbreak or any new program in .NET, we highly recommend that you follow the steps outlined in the "Open a VB.NET Program for the First Time" .NET Help topic. This will provide a means to easily convert Legacy custom fields and verify related custom options. For quick access to this Help topic, simply right-click on a menu item and select 'More Information'.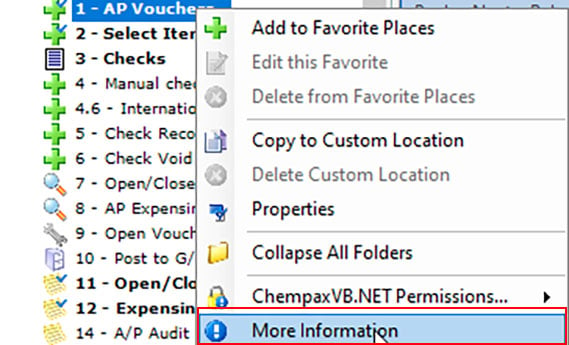 AP Vouchers (AP1)
Several significant upgrades have been made to AP Vouchers (AP1) in .NET. AP invoices and memos can now be assigned to one of four types of vouchers, namely Expenses, PO Receipts, Lot Costing and Outbound Costs.

Based upon the selected type, different grids will be available to enter information specific to the voucher type. For instance, if expensing PO Receipts, a Purchase Order Receipts grid displays and allows PO receipts to be selected for the voucher. If expensing for Outbound Freight, a sales invoice grid displays instead.
In addition to the standard sort and filter functionality, each grid has filters to limit the number of items that display making it easier to find line items. There are also three types of Outbound vouchers to further define vouchers as Outbound Freight, Outbound Other Costs and Outbound Additional Costs. Each outbound grid has fields specific to the outbound type so that separate outbound costs can be overridden and maintained.
The Expenses grid for all vouchers allow an unlimited number of expense accounts to be added and assigned to a cost category. Once saved, the primary information for each voucher can be easily updated directly in the AP1 Datasheet and instead of using Open Vouchers (AP9), AP1 can also be used to reverse or delete a voucher. These are all enhancements not available in Legacy.
Select Item to Pay (AP2)
Select Items to Pay (AP2) displays all invoices and memos that can be applied or selected for payment. The new .NET version includes the ability to limit the number of items that display in the grid based on a time range. This results in a quicker process. Partial payments and Overpay information are now entered in tiles that can be resized, swapped, and saved. All of this information is conveniently grouped in the same view resulting in a streamlined entry process.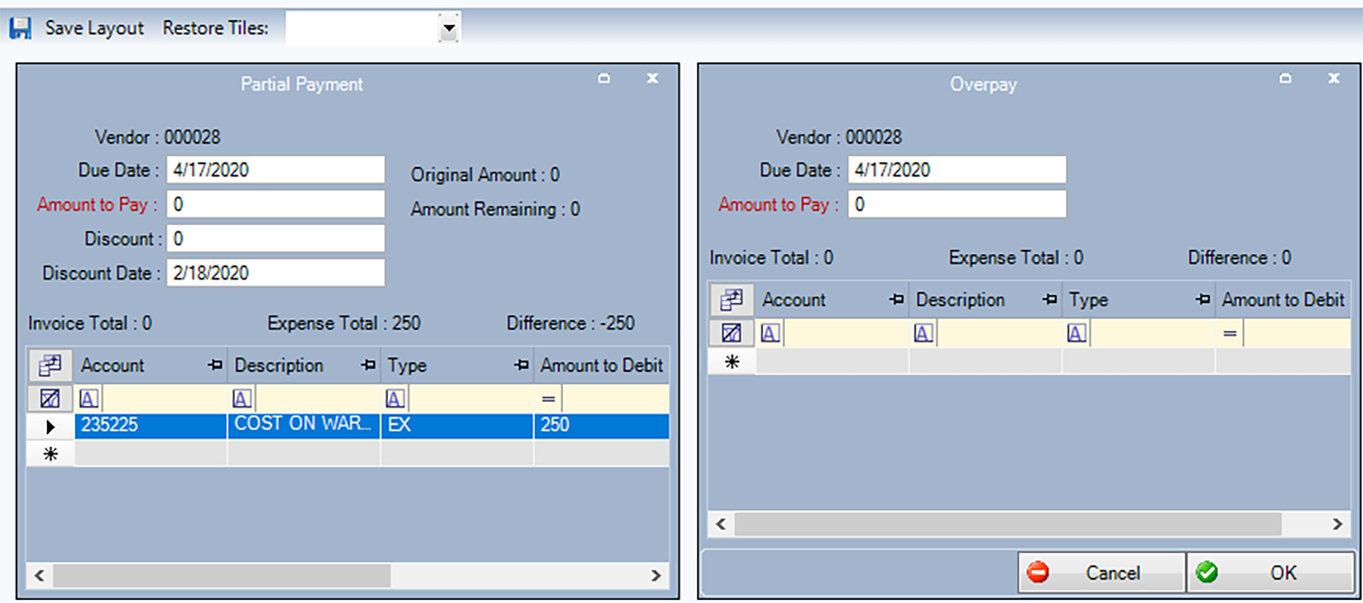 Cash Receipts (AR1)
Enhancements to the .NET version of AR1 include the ability to modify, delete and reverse cash transactions as well as apply cash from the same program instead of using the EX1 and EX2 programs. Upon selecting a customer, the user will immediately be alerted if the customer is on credit hold. The AR1 Payment Information grid in .NET provides a single view where the items can easily be filtered to show either all AR items for the selected customer, only debit transactions, only credits, or only the selected items. Individual line items in the grid can be marked as disputed or noted with a remark by using the Remarks button. Once marked as disputed, the transaction can be traced in the AR Portals rather than running the AR18 or AR19 report. There is also a Non Conformance button that will only enable if there is an open non conformance issue related to the selected AR transaction.

Cash Receipts GL (AR2)
As with AR1, Cash Receipts GL (AR2) has been updated to allow cash to be applied as well as modified, deleted and reversed in the same program. This simplifies the process by eliminating the need to use the EX1 and EX2 programs and provides more functionality than the Legacy counterpart.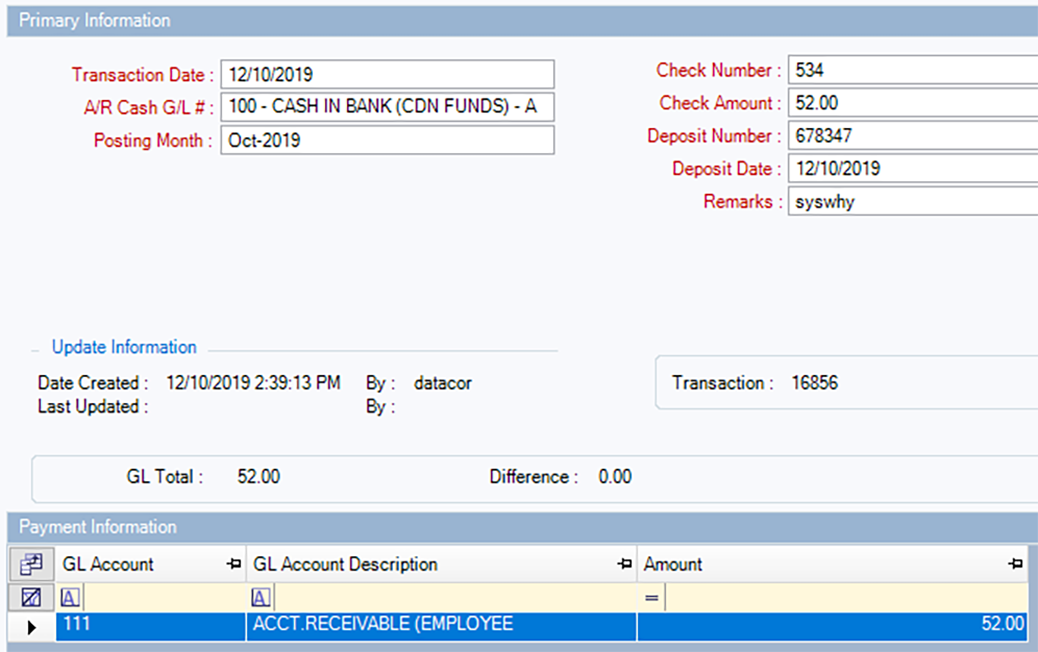 Future Price Maintenance (PR1)
Products can be better defined for price changes using the comprehensive set of options and enhanced filtering now available in Future Price Maintenance in .NET. Once the price changes are set, the unapplied prices and actual price breaks can be viewed and updated using both the Detail View or Datasheet of PR1. The datasheet also includes an easier method to import price changes.
Added functionality also includes the ability to reverse prices by simply clicking the new Reverse button. This is not available in Legacy. The entire process from setting prices, to generating the prices on the effective date to reversals can all be done using the same PR1 program.

All of the programs and functionality described above are available on a version of Datacor ERP (formerly Chempax) dated January 17, 2020 or later. If you do not run your own updates, please contact vbsupport@datacor.com to schedule a time and date that is convenient for you. Once updated, please refer to the New .NET Functionality index in the .NET Help File for step by step instructions on these and all new programs. Feel free to contact vbsupport@datacor.com with any questions you may have or suggestions for additional Help topics.
.NET Purchasing Webinar - Coming Soon!
Be on the look out for a registration email to attend a new VB webinar in March 2020. During the webinar we will demonstrate the purchasing and purchase requisition programs as well as how to use the portals to access purchasing.
New Support System – Coming Soon!
We are in the process of changing to a new support ticketing system to improve our customer support process. More details will follow but for now, please note that you may see a slight change in the appearance of emails sent from vbsupport.
Reminder – Windows Server 2008 End of Life
On January 14, 2020 Microsoft ended support for Windows Server 2008 and 2008 R2. While this deadline has passed, it does not mean that it stopped working. However, action should be taken to ensure the long-term safety and security of your data.
What Does 'End of Life' Mean?
Security Risks - Microsoft will no longer release security updates.
Compliance Concerns – Microsoft will no longer provide functional software updates to reflect modern compliance requirements. Don't let your infrastructure and applications go unprotected.
What Are Next Steps?
If your server is hosted by Datacor, no further action is required. If your server is hosted by a third-party, you have a couple of options moving forward:
Work with your IT team to take on the challenge of upgrading your existing Windows Server on your own; or
Migrate your infrastructure to a Datacor Cloud server and let us take it from here.
Please click here to contact Datacor for more information on migrating your Windows Server.