We all want to optimize performance and have our production processes run smoothly, right? So, how can a manufacturing execution system help, is it right for my business, and what are its core features and benefits?
A Manufacturing Execution System (MES) is a type of software commonly used in modern manufacturing to track and document the transformation of raw materials into finished goods.
So how does it work? An MES combines live data from various parts of a business – from order input through production scheduling – to provide all the necessary insight to make informed decisions, optimize operations, and act quickly should any quality issues arise.
By integrating an MES with a company's existing enterprise resource planning (ERP) software, manufacturers are able to complete orders effectively and instantly adjust inventories, as and when required. An MES can also be integrated with Formulation software to ensure ingredients are measured and traced accurately and consistently, without costly giveaway or out of specification batches. A closely integrated MES-Formulation-ERP solution gives process manufacturers a comprehensive toolset to make the right technical, strategic, and operational decisions throughout the production process.
Sound interesting? In this article, you'll discover exactly why an effective MES can make all the difference to your business and your bottom line.
What does a Manufacturing Execution System do?
An MES is a powerful tool that digitizes and automates batch production, filling and packing operations. The system's built-in validation features ensure every stage of production runs smoothly and that the right procedures are being followed. Not only does this reduce errors but it also helps to minimize waste and lower costs, providing the foundation for lean performance improvements.
The diagram below illustrates where the MES layer is positioned in the manufacturing automation stack. The MES role is at LEVEL 3 between the shopfloor equipment management and the ERP system at LEVEL 4. This MES layer provides better transparency and timeliness for decision making into the production operations.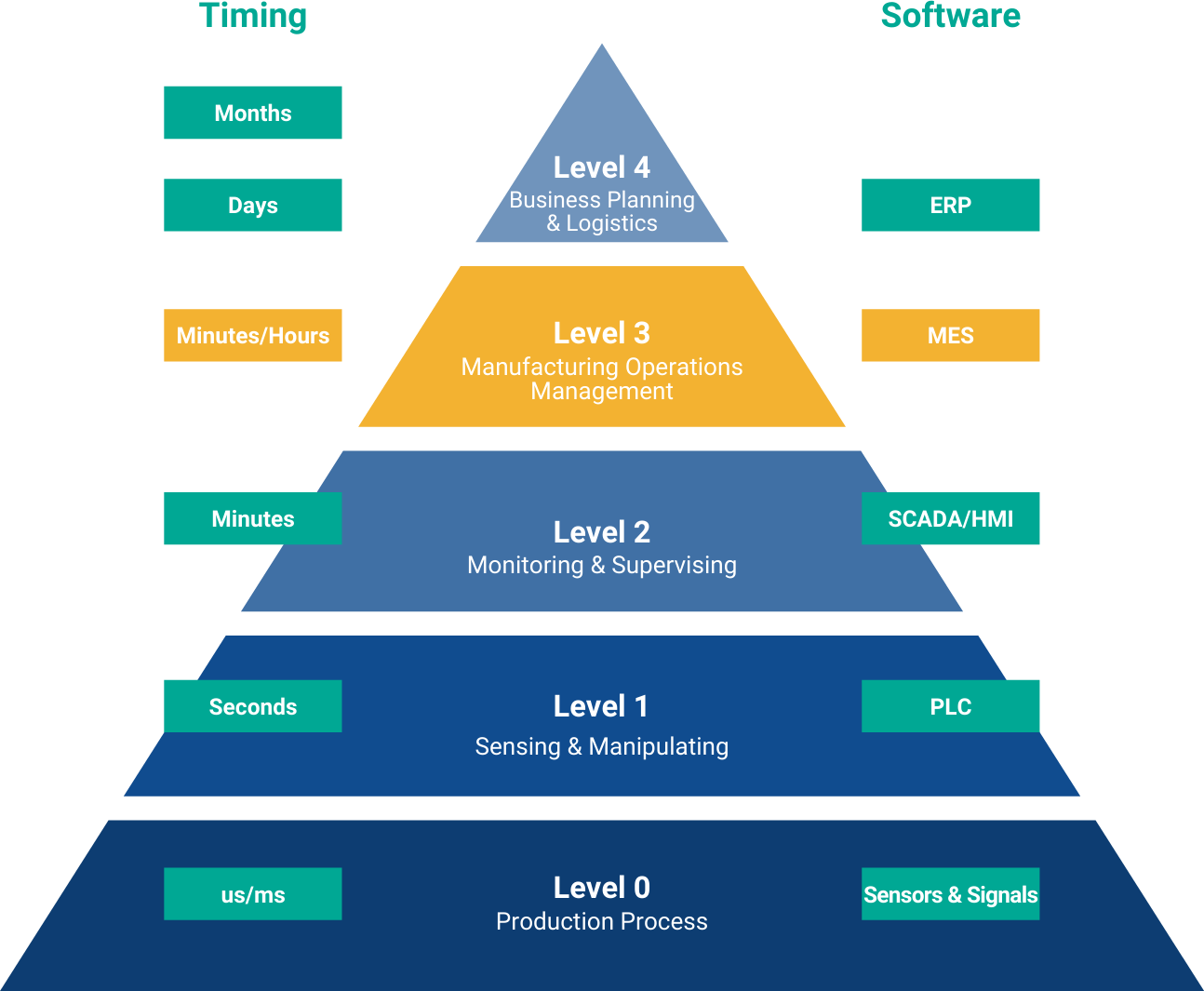 Without an MES, manufacturers lack critical data for their decision-making. Processes can become unnecessarily complex and users won't have access to real-time visibility on inventory, production, or machinery. It also means that important documentation has to be manually distributed, making it harder to manage, share, and control. As a result, batch production schedules, quality instructions and safety procedures can all too easily go missing or be passed on with undetected issues and inconsistencies.
Having limited visibility clearly makes a process far less efficient and can easily result in delivery delays or quality issues. A lack of clear instructions, for example, could impact maintenance plans, resulting in idled machines and lost productivity. If the wrong paperwork is inadvertently used during the manufacturing process, output can be affected and quality levels reduced – possibly even leading to bigger headaches such as damaged equipment or employee accidents.
And there's always the chance that too much waste and frequent delays could push up production costs too, making it even harder to compete with those that run lean, technology-enabled manufacturing operations.
An MES helps to avoid these problems by providing greater visibility and insight and ensuring that every stage of the manufacturing process is performed correctly and effectively, enabling consistent and predictable production. Being able to control and distribute key documents ensures team members have instant access to all the information needed to safely manufacture high-quality products – on time, every time.
What are the Benefits of Using a Manufacturing Execution System?
There are innumerable benefits to using this software. It allows for a far more efficient manufacturing process – providing tighter control over the actual product as well inventories, employees, and the customers themselves.
An effective MES helps to:
Provide real-time visibility into production operations
Improve labor utilization and efficiency
Provide the foundation for lean performance improvements
Improve production performance and capacity
Improve machine utilization and throughput
Raise product quality / cut costs resulting from poor quality products
Improve traceability of products and processes
Improve employee health and safety
Raise service levels for the customer
Reduce inventory and production related waste
Boost the manufacturer's bottom line and the ability to grow their business


Manufacturers generally perform a range of services from bulk blending and mixing to batch production – and they may also have their own filling and packaging operations. Forward-looking businesses are therefore finding they can no longer afford to ignore the benefits of an integrated MES to help them manage the various processes, says Datacor's Head of Product, Jeff O'Brien.
"Most of the value these manufacturers create is on the shop floor. This is also where the most cost and risk is in their business," he says. "MES systems enable manufacturers to drive efficiencies, reduce costs, and mitigate risks in their business. This is why any business with manufacturing operations should consider an MES."
Manufacturing Execution Systems and ERP Software
Datacor's MES, known as Batch Production, focuses specifically on the unique needs of chemical manufacturers and distributors. It is a cloud-based system that is fully integrated with our market-leading ERP and has been tailored to bulk blending, mixing, and reacting batch production processes.
"Datacor's Batch Production solution is unique in the market and its integration with Datacor ERP gives users full visibility from the shop floor to the top floor," adds O'Brien. "MES is at the center of every modern, forward-thinking manufacturer's Industry 4.0 strategy."
MES has traditionally been associated only with the larger manufacturers that were able to invest significantly in their software. However, welcome advances in technology and delivery with Mobile and Cloud mechanisms now mean that smaller manufacturers are also able to quickly adopt these same tools on their shop floor and drive innovation within their business at a lower cost.
The Future of MES
Inevitably, MES systems will continue to evolve so they meet the ever-changing requirements of modern manufacturers and help them solve increasingly tough production challenges. This shift will include advances in machine integration, process automation, artificial intelligence, and machine learning.
Rest assured, that Datacor will always be on hand to help you on this journey.
If you're ready to digitize batch manufacturing processes and provide production teams with operational visibility with real-time data and control, schedule a free demo today.
The Future of MES