Chemical companies have to comply with stringent regulations in many areas, including shipping, inventory, production and distribution. The costs associated with these requirements can be steep, especially if your company is caught failing to abide. However, companies in all sectors of the chemical industry can alleviate some of the pressures of regulatory compliance by incorporating software technology to keep compliance risk and costs relatively low, while reducing the time requirements that come with regulatory compliance. Some examples of how your business can use software to improve its compliance processes follow: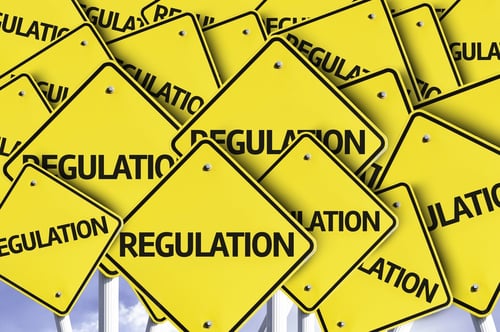 Shipping Regulations
The Department of Transportation (DOT) requires motor carriers to prepare a written bill of lading for all shipments. A bill of lading is a legal document that must contain the names of the consigner and consignee, a PO or special account number used between businesses for order tracking, origin and destination point, the number of shipping units, the type of packaging (for example: cartons, pallets, skids, and drums), a description of the items being shipped, a note if the commodity is a DOT hazardous material (special rules and requirements apply, and the weight, volume, or measurement of the freight. The document gives the freight carrier temporary title to the shipment and functions as a contract between the shipper and the carrier.
Compiling and preparing a bill of lading in accordance with DOT regulations is a time-consuming process plagued with the possibility of error. The time being spent on preparing these documents could be better spent on business processes that impact the bottom-line. To combat this problem, chemical companies can employ technology to curb the risk of errors and allow businesses to focus on other areas of their operation.
Look for an Enterprise Resource Planning (ERP) system with specialized software that meets the DOT shipping requirements for your product types and produces the necessary documents for each shipment. An ERP system that is capable of taking data that has already been entered and producing a bill of lading whenever necessary can save your business a significant amount of time and effort while limiting your risk of non-compliance.
Managing Inventory
Businesses and organizations in the United States that manufacture, store, or distribute hazardous chemicals (above certain quantities) are required by the Environmental Protection Agency (EPA) to submit periodic reports. These reports, Emergency and Hazardous Chemical Inventory Forms or SARA (Superfund Amendments and Reauthorization Act) Tier II Reports, include data that allows states and local disaster planning committees to be knowledgeable of the chemicals in their area in the event of an emergency. This information is available to the public so people in a given area are aware of potentially dangerous conditions in the event of some sort of disaster. SARA Tier II Reports are not mandatory under federal law, but they are required by some states and municipalities.
The information required by on these reports includes a list of all hazardous substances and chemicals with their common name, physical state, physical and/or health hazards, inventory information, and storage details (container type, pressure, temperature, average and maximum daily quantity, and locations). Companies are also required to provide the owner's name, facility address, phone numbers, and emergency contact information. Furthermore, a designated company representative must certify that all information is accurate and complete.
Today's chemical ERP software is capable of compiling the information regarding the chemicals and hazardous substances your company is handling, and completing the necessary reports to comply with the EPA's requirements. Again, this will reduce the risk of a reporting or compliance error, and allow your business to focus on what it does best.
Production & Distribution
Safety Data Sheet (SDS) and labeling compliance impact the production and distribution segments of chemical businesses. The Occupational Health and Safety Administration (OSHA) recently revised its Hazardous Communication Standard to incorporate the United Nation's Globally Harmonized System of Classification and Labeling of Chemicals (GHS) in an international attempt to harmonize hazard classification, SDS formats, and the labeling of chemicals. The new SDS format and information was required as of June of 2015.
SDS, formerly referred to as Material Safety Data Sheets (MSDS), must use specific headings in a specific sequence in a 16-section format. Information required on each SDS includes identification, composition, first-aid measures, fire-fighting measures, accidental release measures, handling and storage, exposure controls, physical and chemical properties, stability and reactivity, toxicology, ecological information, disposal considerations, transport and regulatory information, and last revision date. There are additional label requirements that vary depending upon the chemical industry segment in which your business operates.
Many chemical companies have struggled to implement processes and policies to ensure that SDS data is accurate and up to date. However, a chemical ERP solution can compile the information and track changes required by OSHA. I addition, companies must supply SDS to first time buyers, after any changes to the SDS and every year that the product is purchased. Fortunately, these rules can be integrated into your ERP so that you stay in compliance and makes sure that everyone gets the proper SDS.
Conclusion
Chemical companies have to abide by strict regulatory requirements imposed by government agencies. Additionally, these requirements can be burdensome, take time and attention away from other important areas of the business, and come with the risk of error if filled out manually. A company's failure to comply with these requirements can lead to delays in their business and/or harsh financial penalties. However, chemical companies can implement software solutions to help them navigate through today's regulatory environment with ease, allowing them to focus on running and improving their business rather than spending time doing non-revenue producing tasks just to comply with regulations.