Digitizing your workflow allows for greater productivity, improved efficiencies, and fewer mistakes. Today's software solutions help to alleviate some of the common pain points in the manufacturing process, eliminating physical paperwork, and providing greater visibility to teams.
Having a reliable enterprise resource planning (ERP) system, such as Datacor ERP, is a great way to digitize the bulk of your business activities. However, the manufacturing process is often far from paperless due to the specific nature of the duties performed on the plant floor.
Many companies with production or warehousing units would traditionally print their batch orders and manufacturing instructions. Operations teams would then rely on pen and paper to record key details during production to log specific tasks and processes. All this documentation is then physically submitted to the office where the data is manually entered into the ERP.
It's a lengthy and laborious process that's also highly error-prone. There's always a risk of paperwork being damaged, lost, or overlooked – or data being added to the system incorrectly. Inaccuracies may result in additional business costs, which could prove significant.
To avoid these mistakes, it's often necessary for office staff to return to the shopfloor to double check and verify data with the manufacturing team, considerably slowing the reconciling of inventory and raw material in the ERP – key information that could influence further decision making.
By going digital and minimizing your reliance on paperwork, the entire process becomes faster and more accurate, with data always close at hand should you need it.
How can Datacor MES and WMS help?
Datacor MES (Manufacturing Execution System) replicates that paper-heavy batch production model on a mobile tablet that can execute all those steps within just a few clicks.
The MES is tightly integrated with the ERP, so captured information is automatically saved into the system, making it instantly accessible. This means no more printing, taking notes on paper, walking back and forth to check stock, or accidentally logging the wrong data. Instead, users have access to reliable, real-time information about the production process.
Digitizing data greatly improves communication between teams and ensures the latest and most accurate data can be shared easily. It could, for example, help ensure everyone is kept up-to-date with changes to standard operating procedures or production formulas, or that the new instructions are attached to a batch ticket, so there's no risk of making a bad batch by using an old formula.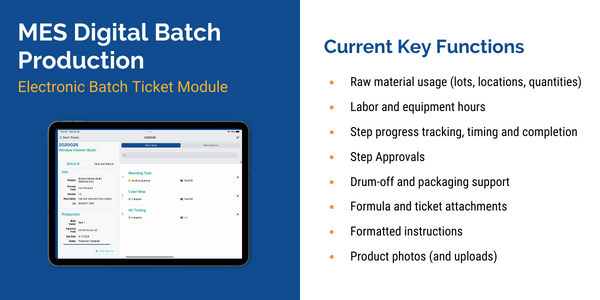 Similarly, Datacor WMS (Warehouse Management System) can help digitize warehousing services, where activities tend to be equally paper-heavy and time consuming.
Our leading WMS helps to track inventory with its individual labeling system identifying each storage location and respective inventory. This not only facilitates the order picking and shipping process, but makes light work of inventory management within a facility.
Each unique barcode is read using a mobile device or dedicated handheld scanner, with the data instantly transferred and stored.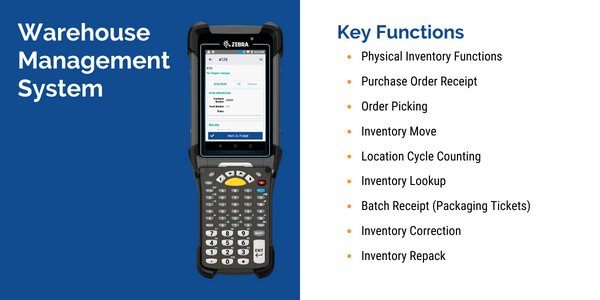 Steps to a Smooth Transition
Digitizing the manufacturing process comes with a number of advantages, including time and cost savings, efficient safekeeping, and timely generation of valuable information across teams. However, there are some easily avoided mistakes made by businesses before and during implementation that prevent them from making the most of their new software.
The implementation process can be shorter and far more successful if you follow a few simple steps in advance of your go-live date:
Location Control: Make sure you identify and label your storage locations in the plant. These will be set up and used in the software and on your mobile devices.
Lot Control: We recommend leveraging industry best practices so that every inventory item can be tracked in the plant and original production batch by lot number.
Datacor ERP: Ensure you update to the latest version of Datacor ERP.
Mobile equipment: Source the required number of tablets and/or scanning devices that can be connected to Datacor MES/WMS.
Wi-Fi: Check you have a reliable Wi-Fi network throughout your facility.
It's also extremely important to involve the entire operations team and get them onboard with the changes. Get them involved and make sure you communicate the transition to the new system and the benefits it will bring – not only to the business but to their personal workload. Successful implementation will bring positive results, including:
Extra time for important work tasks. There's no need to spend taking notes and physically sharing paperwork with the office. That also means fewer mistakes due to illegible handwriting or poorly transposed data.
New technical skills. By using the latest software and tools, teams will learn new skills which may help their career progression.
Better reputation. By embracing digitization, your forward-looking business may find it easier to attract new employees and clients.
In our experience, the best way to communicate these advantages is by finding champions within your business to help adopt the new tools, provide training, and answer questions. This not only eases the transition, but also provides the business with a chance to identify a potential new leader.
And, of course, Datacor is also always on hand to ensure a smooth onboarding process.
Get in touch if you'd like to learn more or to schedule a free demo.
Frequently Asked Questions (FAQs)
What is paperless manufacturing?
The use of software and digital systems to collect, share, and store information rather than relying on traditional paper-based methods.
What are the main benefits?
Going digital streamlines processes, minimizes human error, and improves efficiencies. Capturing data using software is faster, more reliable, and more accurate than using physical paperwork that can easily be lost, overlooked, or damaged.
How should we prepare for the digital transition?
Get your team onboard and keep them informed and updated throughout. Ensure you plan carefully and ready yourself with the right software, scanning devices, and Wi-Fi coverage; offer sufficient training and support in-house; and appoint a champion to help smooth the transition.