For any organization that stores on-site chemicals, one thing is crucial: a reliable chemical inventory management system. But creating and maintaining an accurate chemical inventory can be more difficult than it sounds, and without this, your business can suffer.
At best, manual inventory management is a hassle, forcing staff to spend valuable time on menial, repetitive tasks. At worst — if employees and emergency responders can't find the chemicals and safety information they need when they need them — it can bring significant financial, health and environmental consequences.
Chemical inventory management software solves these challenges, offering an automated, accurate system that's accessible from anywhere. These solutions integrate a range of business functions in one place, streamlining processes and information across your organization.
In this article, we'll cover:
Pain points of manual chemical inventory management
Tracking and managing your chemical inventory can feel secondary to the "real" work of production and distribution — but all of these activities impact one another. As products are created and moved, stock levels change, items are taken from their usual spots and chemicals near their expiration dates, so it's critical to know the status of every product in your inventory at all times.
In the past, chemical inventory management consisted of pen-and-paper lists tucked in a folder or filing cabinet, or saved on a digital spreadsheet on the warehouse manager's computer. Many organizations still rely on these manual methods, yet they come with serious challenges:
Tedious, time-consuming work. Writing lists, receipts, transfers, orders and sales by hand; physically walking paper notes from one employee to another; hunting the warehouse for products that aren't there; and double-entering data are just a few of the manual methods that waste time and decrease productivity for your team.
Risk of human error. When relying on workers to make manual updates, errors are common, such as incorrectly entering data, forgetting to make inventory updates or adding the same products twice. What's more, paper lists can easily be lost, while single copies of digital documents are only one failed backup away from disappearing.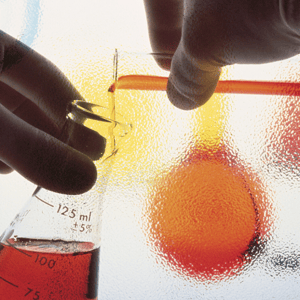 Inconsistent units of measure. Not all companies use the same units of measure; for example, U.S. manufacturers using pounds may order chemicals from a European supplier who measures in kilos. Similarly, the same item may have multiple units of packaging (e.g., purchasing a chemical in bulk and selling it by the pail). For accurate inventory, complex calculations must be made to convert chemicals to base units of measure and weight.
Out-of-date information. Made-to-inventory orders require fast delivery, which relies on accurate quantities. And made-to-order products need ingredients to be on-hand or quickly obtained when an order is placed. With manual inventory management, quantities are often out-of-date and information isn't shared across departments, which can cause costly delays.
Wasted resources. If a chemical isn't in the right place, you may order more, not knowing that you already have some. Conversely, if you realize too late that you don't have a chemical you need, you can face fees for rush delivery, missed shipments or production delays. And if expiration dates aren't properly tracked and accounted for, materials may be wasted.
Quality management. The products produced by chemical and process manufacturers must meet certain standards for quality. That requires the ability to track lot and batch numbers in quarantine for quality testing, as well as rework or off-spec material that may be used in recipes and formulas.
Regulatory incompatibilities. If emergency responders can't find and trace the chemicals and safety information they need in the event of an incident, you can face steep penalties and endanger public health. Accidental double-orders and improperly stored chemicals can also threaten compliance, pushing on-hand quantities above regulated limits and risking cross-contamination.
Chemical inventory management and compliance: related questions
What is a chemical inventory list?
An accurate and up-to-date list of every hazardous chemical you have on-site is a requirement of the OSHA HazCom standards (the U.S. Occupational Safety and Health Administration's Hazardous Communications standards). OSHA HazCom is the second-most frequently cited violation across industries (after Fall Protection), as many organizations don't even realize they are noncompliant.
Every chemical on your inventory list must have a corresponding Safety Data Sheet (SDS) and label. Labels are applied to each chemical container and include the manufacturer information, product identifier and hazard statements. The SDS includes information about the hazards, storage, handling, transport and emergency response for the chemical, and must follow a specific, 16-section format. If an SDS is missing, you must create one for your manufactured products or contact the supplier for a copy and keep the documented request on file until it arrives.
Both employees and emergency responders must be able to access the inventory list and SDS database quickly and easily in case of an accident or spill. When there is a recall, all chemicals must also be traceable down to the lot number.
How do you make a chemical inventory list?
Document all hazardous chemicals, such as aerosols; compressed gases; flammable and combustible materials; poisons; peroxides; corrosives; and controlled substances. Take the necessary steps along the way to identify, review and minimize hazards.
What are the four main areas covered by the standard?
According to OSHA HazCom, organizations that use hazardous chemicals are required to label chemicals properly; provide safety data sheets; train employees on handling and use; and create a written hazard communication program.
What is a MSDS used for?
SDSs were formerly known as Material Safety Data Sheets (MSDSs). They provide health and safety information about hazardous chemicals for workers handling them and for emergency responders.
Features of chemical inventory management systems
Not every chemical inventory management system is equal. To manage inventory effectively, look for software that integrates the following business functions in one place:
Digital order management with wireless barcode scanning. This functionality streamlines inventory movements from production, purchasing, shipping and warehouse transfers, so you'll know exactly where everything is exactly when you need it. Barcode scanning and tracking is the best way to manage most inventory transactions, from receiving a purchased raw material to shipping the finished product. Mobile devices are used to scan barcodes directly from the shipping dock, warehouse floor or lab, updating inventory in real time.
Demand planning, materials requirements planning (MRP) and forecasting. Systems with MRP and scheduling tools simplify purchasing and production decisions by drawing from historical information, material needs and on-hand inventory. These tools help you forecast sales for made-to-order and seasonal inventory; check recipes and formulas for necessary materials; automatically trigger purchase orders and calculate lead times for made-to-order items; and enable "just-in-time" ordering, so you'll never exceed your quantities or come up short.
Unit-of-measure and unit-of-package conversions. Inventory management software that's specialized for the chemical industry will automatically convert units of measure and packaging into the base units you need to measure your inventory. This ensures accurate inventory quantities, costing, pricing and sales analysis, while helping manufacturers manage recipes and formulas.
Quality management and rework functionality. Ensure your products meet quality standards and eliminate handwritten quality-control logs. Specialized chemical inventory software tracks chemicals being quarantined for quality testing as well as rework and off-spec material, then automatically adjusts formulas when they're withheld or introduced.
Real-time inventory control. Barcode scanning enters items directly into your inventory list, enabling accurate, real-time quantities across all locations and departments. A robust inventory management system will also offer tools for lot control; shelf life; expiration-date tracking; bin location control; first-in, first-out (FIFO) inventory costing; and details for all inventory transactions.
Instant data-integrity checks. A unique aspect of chemical manufacturing is that processes can't be reversed; once the raw materials are mixed, they can't be separated. Receive automatic alerts if the wrong product is scanned during production, ensuring proper formulation and preventing wasted time, costs and materials. This is also useful during shipping so that the wrong product isn't shipped to the customer. Industry-specific compliance and reporting. Chemical inventory management systems have specialized functionality to help you meet regulatory compliance requirements. A robust system will collect, organize and report information for OSHA, the Environmental Protection Agency (EPA), the Department of Transportation (DOT), the Drug Enforcement Agency (DEA) and the Department of Homeland Security (DHS), among other regulatory bodies.
Cradle-to-grave lot traceability. Particularly for food, beverage and cannabis manufacturers and distributors, full lot control, traceability and recall is critical in the event of a food-safety issue. Software can trace c
hemicals and ingredients down to the lot number across many products to ensure a proper response.
Cost and profitability tracking. Chemical inventory management software offers tools for tracking complex material costs for recipes and formulas; converting units of measure and packaging; tracking lot numbers and expiration dates; and accessing real-time pricing information in an industry where prices are constantly fluctuating.
Benefits of chemical inventory software
The robust functionality of chemical inventory management systems comes with many benefits, including:
Real-time, accurate inventory. Inventory updates happen in real time, rather than waiting for someone to manually update the list. Quantities update automatically across all of your locations and departments, giving everyone access to the most current information.
Industry-specific functionality. Software specialized for the chemical industry comes with the unique functionality manufacturers and distributors need. This includes recipe and formula management functionality; unit-of-measure and unit-of-packaging conversions; quality management tools; and MRP functionality.
Automates manual processes. No more hunting through warehouse shelves or typing in data; your inventory is automatically updated anytime a chemical is received, used, relocated or disposed of. Chemical information is uploaded through barcode scans, automatically linking relevant health and safety information. Many other aspects of inventory control are also automatically linked through order entry, invoicing, purchasing, reporting and forecasting.
Integration across operational departments. The right chemical inventory system will integrate and streamline functions across departments, including inventory, production, distribution and pricing.
Regulatory and reporting compliance. Regulations are constantly changing, and specialized inventory management systems will help you stay compliant with safety and reporting requirements around the world. This includes labeling, packaging and shipping requirements.
Remote access. Workers and emergency responders can use chemical inventory management software to remotely retrieve data on a given chemical's location, quantity, safety information and regulatory compliance requirements. Executives and company leaders can also access inventory, safety, quality, sales and financial information from any location.
Cost-savings. Eliminate accidental double-orders, unnecessary disposals and inaccurate expiration dates so you can optimize ordering, streamline production and reduce the likelihood of noncompliance fees. In turn, this increases efficiency and productivity; boosts morale; and drives operations toward revenue-producing activities.
Better business decisions. Buying, stocking and handling inventory efficiently is key to a successful business. With accurate, real-time information and sophisticated planning, forecasting and budgeting tools, leaders can make smarter decisions for the entire organization.
"Datacor ERP has tied all of the information we need into one centralized system. When we move an item in the wireless system, the information is immediately reflected across the rest of the ERP solution. Our distribution and manufacturing operations are far more agile because we now know precisely what products we have or need, in what quantities and exactly where they are located." — Randy Byle, IT director at Haviland Enterprises
Datacor ERP is a comprehensive enterprise resource planning (ERP) solution that includes inventory management functionality. Designed specifically for process/batch manufacturers and chemical distributors, this robust system offers all of these features and more — streamlining processes and supporting informed decision-making across your company. Learn more about how Datacor ERP ensures effective inventory management that enables your company to improve efficiencies, reduce costs and increase profits.