Your business has a lot of moving parts: from accounting and payroll to production and distribution. Every activity within the company and each piece of data gathered externally from customers, suppliers and business partners must be recorded. To make informed decisions, your entire company needs access to that data — but how can you manage it all while still handling day-to-day tasks?
Enterprise resource planning (ERP) software helps companies of any size consolidate information to streamline operations. A fully integrated ERP system aggregates all of your data in one database, allowing you to manage and automate business processes across the organization from within a single platform.
Integrated ERP solutions are incredibly comprehensive, with functionality that runs the gamut from human resources (HR) to manufacturing. In this article, we'll explore the pain points these systems can solve; the benefits and features of using fully integrated ERP software; and special considerations for businesses in the chemical manufacturing and distribution industries.
Jump to a section to learn all about integrated ERP systems:
What Is Integrated ERP?
An integrated ERP system allows every aspect of your business to be controlled from a single application, so data flows seamlessly through the company — and down to your financial statement. Integrating information and processes increases efficiency and enables informed decision-making.
What's more, teams and departments can communicate with each other, access information and execute business processes without interfering with each others' work. Sales staff can view inventory data; marketing can access sales reports; and executives see a clear, holistic picture of the company.
ERP systems offer separate modules for each of your company's departments and functions. What distinguishes integrated from non-integrated software is that in a fully integrated solution, these modules are linked, automatically gathering data from both internal and external sources and centralizing it within a unified database. Workflows are streamlined; manual, redundant data-entry is eliminated; accuracy is improved; and everyone can find the data they need when they need it.
You might need integrated ERP if...
Many businesses start out using manual processes, such as paper lists or Excel spreadsheets, for tasks such as invoicing, sales orders and inventory. As the organization grows, they adopt individual software systems to handle specific activities that seem the most pressing, such as an accounting platform or an inventory management system.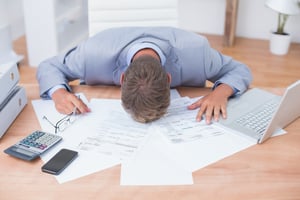 The problem is that data is siloed in each of these separate platforms — none of which can communicate with each other. Custom software integrations are required to link these systems, which are often costly, time-consuming and error prone. While starting over with an integrated system may seem daunting, it can save countless hours and millions of dollars (or more) down the road.
If your business is struggling with the following pain points, it might be time to adopt a fully integrated ERP system:
Using manual or non-integrated systems. When you use a different platform for each business function, departments don't have the information they need, communication is limited and productivity suffers. Using manual methods, such as paper lists or digital documents and spreadsheets, is time-consuming, inefficient and error prone.
Every time someone in your organization needs to perform a task that isn't managed within the core software system, whether it's placing a customer's order or receiving the raw materials to create a product, they will have to rely on manual data entry to capture that same information all over again within the ERP system. This makes it too easy for someone to make a mistake, enter the same data twice — or forget to record it altogether.
What's more, without cross-functional, automated tools, staff in each department must remember to perform crucial tasks at the right time, such as reordering supplies, invoicing customers and submitting compliance reports.
Difficulty making business decisions. With no unified view of company data, executives and leaders can't make informed decisions. Reporting and financial information must be manually collected from multiple stakeholders and departments, which takes time and effort and limits actionable insights.
Hard-to-manage accounting. If invoicing, purchasing, manufacturing, shipping and employee benefits information isn't directly updated in your accounting system, key financial data may slip through the cracks. Double-entering data is not only time-consuming but can also result in costly errors on behalf of customers, workers, suppliers and the entire organization.
Health, safety and environmental non-compliance. Most non-compliance fines and product recalls can be easily avoided by following the proper requirements. If you're shipping or receiving hazardous materials or performing quality testing on manufactured products, you need to include the right documentation for each ingredient.
Without an automated, integrated system, the regulatory department has to get involved with every shipment and receipt of product, slowing the process down: Each product must be correctly identified and documented; then, that documentation must be manually printed or emailed to the receiver. If products are not classified and/or documented correctly, penalties may ensue. Even worse, in the event of an accident, spill or recall, failure to provide documentation or follow procedures can not only result in fines, but can also impact the safety of workers, the community and the environment.
Problems with order fulfillment. If sales staff doesn't have accurate, real-time access to product, pricing, customer, inventory and delivery information, they may miss sales opportunities — whether by failing to pitch the right product or pursuing a customer who doesn't pay on time. They may also quote inaccurate prices or lead times, hurting the customer experience and impacting your bottom line.
Overly complex technology. Integrating stand-alone software is a time-consuming, complex and costly process. Stories of failed implementations are common, even for some of the world's biggest brands, with projects that can drag on for years and cost billions of dollars. Even successful implementations require regular patches and upgrades to keep everything running smoothly.
Lack of support. When using manual or disconnected systems, it can be hard to find the source of errors, flawed processes or technical difficulties. Custom integrations often don't offer long-term support and are complex for technicians to troubleshoot. What's more, if one vendor in your system goes out of business, you must begin the costly integration process all over again with a new one — unless you choose integrated ERP.
Benefits of an integrated ERP system
The benefits of a fully integrated ERP system include:
Automated processes
Real-time data
Single source of information
Regulatory compliance
Supply chain optimization
Faster return on investment
Visual workflows
Mobile access
Now, let's take a closer look at each one:
Automated processes: Inefficient manual processes, such as entering data by hand, updating multiple systems, making conversions and reconciling accounts, are fully automated — vastly increasing accuracy and productivity. Integrated ERP systems can automatically trigger cross-functional activities, such as reordering when inventory runs low or compiling safety information for production, distribution and compliance reporting.
Real-time data: Everything is updated in real time with integrated ERP: from inventory counts to key performance indicators (KPIs) and accounting data. Everyone who needs it will have access to the most current information across all locations, empowering sales staff to fulfill more orders with the right customers; producers to maintain margins when conditions change; maintenance workers to perform needed repairs; and executives to see where the business stands at any point in time.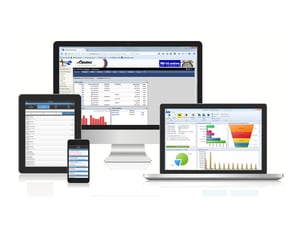 Single source of information: Centralizing all information in one, interconnected database eliminates duplicate data entry and manual searches, while vastly reducing human error. Communication and knowledge-sharing is facilitated across the organization — saving time, streamlining operations and enabling informed decision-making.
Regulatory compliance: Most integrated ERP systems support compliance management documentation and processes, helping you adhere to health, safety and environmental regulatory and reporting standards on the state, federal and global levels.
Supply chain optimization: With integrated inventory, production, distribution and financial functions, you can ensure supply chains are operating at their peak. By optimizing inventory levels and accurately forecasting demand, you can minimize manufacturing and distribution costs while maximizing returns.
Faster return on investment: You won't need to build custom integrations down the line, allowing you to get to profitability faster and realize the benefits of your ERP software right away.
Visual workflows: Working from a centralized database enables you to visualize cross-functional workflows for the entire organization. This allows different leaders, departments and teams to see what projects others are working on, enhancing planning, scheduling and forecasting.
Mobile access. The true value of integrated ERP is its ability to get the right people the information they need at the right time. Choosing a system with mobile capabilities enables real-time inventory updates; more accurate order fulfillment; enhanced decision-making for company leaders; and up-to-the-minute data to empower sales teams.
Features of integrated ERP software
Popular features of integrated ERP software include:
Accounting and financial management
Customer relationship management (CRM)
Business intelligence (BI) and artificial intelligence (AI)
HR
Demand planning and forecasting
Inventory management
Supply chain management
Project management
Let's dive into how these features help streamline and enhance operations for businesses of all sizes and industries:
Accounting and financial management. Integrated ERP systems centralize financial information from across the organization, enabling data-driven business decisions and automating key accounting tasks.
Accounts payable and receivable features allow you to manage customer accounts; process payments; track payment due dates and discounts; and manage costs through integration with purchasing and inventory modules. General ledger tools provide a birds-eye view of transactions, statements, balances and audit trails, along with financial reporting.
Customer relationship management (CRM). CRM software offers real-time information on customers, products and pricing, empowering sales and support teams. Integrating your CRM with your ERP system links the demand side of your operation with the supply side, streamlining marketing and sales functions and connecting them with distribution and manufacturing. Common features include contact, lead and customer opportunity management; reports and analytics; sales force automation and sales forecasting; and interaction tracking.
Integrated ERP and CRM software allows your sales team to access all customer interactions in one place, including purchase histories; inventory and supplier information; year-over-year trends; new business opportunities; and products in development. This allows them to focus on the important work of interacting with customers, rather than manually searching sales orders, emails and multiple systems. Some systems even provide a self-service portal where customers can place their own online orders.
Business intelligence (BI) and artificial intelligence (AI). Informed decision-making relies on the ability to gather and analyze robust data. BI tools offer insights from across your organization and allow you to visualize important data, so you can track and quickly respond to sales, market and quality trends; enhance resource and demand planning; gauge inventory levels; and share KPIs to improve company-wide collaboration and efficiency.
When sales, customer and inventory data accumulates over months and years, some systems support AI functionality that can automatically trigger alerts, workflows and emails to the right people when patterns are broken. For example, notifications may be sent when a customer hasn't fulfilled their usual order; if there are inventory shortages or overages; or when it's time to buy raw materials to fulfill an upcoming order.
HR. ERP systems with integrated HR modules allow staff to manage recruiting, hiring, onboarding and workforce management tasks, including evaluations and training. Personnel tracking, payroll and benefits administration functions are automated and linked with accounting — increasing accuracy and efficiency while ensuring workers are paid on time.
Demand planning and forecasting. ERP software with material requirements planning (MRP) functionality automates and improves buying and scheduling decisions based on historical data, efficiently planning production based on the needs and availability of inventory, labor and equipment. Accurately forecast demand and inventory availability to maintain "just-in-time" quantities, improving order fulfillment.
Inventory management. Your business needs an easy way to monitor and control inventory levels, deliveries and orders. ERP systems offer features that optimize order entry, invoicing, purchasing, production and receiving — including wireless barcoding tools that allow shipping, receiving and production staff to update quantities in real time, right from the floor.
Integrating inventory management with sales, CRM and financial management modules empowers your sales team to find new opportunities and reduces errors, keeping customers, staff and upper management happy.
Supply chain management. Integrated ERP software allows you to manage, automate and optimize your supply chain with features for logistics management; customer orders; procurement, scheduling and sourcing; demand planning; forecasting; and resource management. It's also linked with invoicing, general ledger, reporting and banking information for effortless updates.
Project management: Teams, departments and individuals can create and manage their own projects, collaborate with one another and view projects others are working on through integrated project management modules. These include tools for creating plans, schedules, resource assignments, budgets and estimates — aggregated in one place.
Integrated ERP for the chemical and manufacturing industries
While most integrated ERP systems are well-suited for a broad variety of industries, the chemical and process manufacturing markets are different. Businesses in these industries must comply with health and safety regulations; work with recipes and formulas; follow specific guidelines for packaging, labeling and shipping; and manage fluctuating prices.
Chemical manufacturing is especially unique: Once ingredients are combined, they can't be separated. Processes must be carefully monitored, and rework and off-spec material must be accounted for in quality control and testing.
However, there are integrated ERP solutions designed specifically for chemical and process manufacturers, such as Datacor. These systems offer tailored functionality to support, integrate and streamline essential business functions for companies in this field. Benefits and features of specialized systems include:
Regulatory compliance. ERP software for the chemical and manufacturing industries helps you keep up with ever-changing government regulations through automated, data-driven documentation and processes. A single customer order can have dozens of health and safety documents that need to be created and distributed along with the bill of lading; it's easy to overlook one of these if you have to contact the regulatory department and manually collect them.
The right system will automatically create the proper safety data sheets (SDSs), certificates of analysis (COAs) and allergen, non-GMO or Kosher certificates when an order is assembled, then print or email them to the customer. It will also support labeling, safety procedures and compliance reporting. And with everything linked to your accounting system, invoicing and reconciliations are automatically updated, as well.
Computerized maintenance management system (CMMS). Using ERP software with an integrated CMMS, you can easily schedule repairs and plant preventative maintenance within the same interface. Track costs; manage work orders and assets; and replenish parts when supplies get low without any manual data entry. Integration with purchasing, inventory and accounting functionality keeps stock and financial information up to date, while your equipment and facilities keep running smoothly.
Price change management. In an industry where prices are constantly fluctuating, you need an easy way to keep up with changes. A system that supports automatic pricing updates will record, recalculate and notify your customers of price changes, helping maintain your margins. It can also automatically calculate replacement costs.
Data-driven sales enablement. When you take a customer's order, you want to make sure you're shipping them the right product — and this is especially crucial in the chemical industry. Look for a system that supports tailored customer profiles, detailing only the products that the customer tends to buy, the prices they pay for them and the containers they use for shipping. This eliminates the manual effort (and potential error) of double-entering data from a customer price sheet or separate tracking system into your ERP database.
Non-conformance tracking. In addition to detailed information on customers' purchase histories, pricing and shipping specifications, the right ERP system will offer non-conformance modules that track complaints about customers and suppliers, noting any time procedures weren't followed or a corrective action was required. This provides a top-down view of a customer or supplier relationship, enabling more beneficial business decisions.
Automatic conversions. Different customers in the chemical and process manufacturing industries often sell in different units of measure; for example, a U.S. supplier may have a material in inventory by the pound, but their European customer wants to buy it by the kilo. Integrated ERP software for the chemical industry can automatically convert and process the transaction.
Cost and profitability tracking. Track and measure the real costs and profitability of recipes and formulas. The right system offers tools that calculate costs based on ingredient potency and quantity, units of measure and storage and transportation costs. Tracking expiration dates and lot numbers helps reduce waste, and measuring the cost of wasted materials can help you adjust to improve margins.
Manufacturing. Specialized ERP solutions improve accuracy, streamline manufacturing processes and enable better buying and production decisions. Automate production scheduling and procurement tasks with features such as electronic mobile batch tickets; automatic batch generation; packaging formulas; production dashboards; and demand-driven material requirements planning (MRP) and master production scheduling (MPS).
Quality management. Track and control product quality, from planning to manufacturing and delivery, using ERP software with a quality management module. This functionality can automatically produce and distribute COAs along with the bill of lading, in addition to managing quality control testing; rework and off-spec material; cradle-to-grave lot and batch-number tracking; data integrity testing; and automatic lot selection, among other key factors.
Industry-specific supply chain optimization. Chemical and process manufacturers have specific shipping and transportation needs. Integrated ERP systems for this market offer tools to manage packaging, labeling and distribution for chemical, pharmaceutical, food and beverage products, while complying with regulations for transporting hazardous and consumable goods.
Lab management. Specialized features for the chemical industry help you manage recipes and formulas quickly and easily, offering flexible formats, automatic calculations and multiple formulas per product and customer. They even account for environmental conditions, chemical concentrations and potentially adverse reactions and offer recipe substitutions. This functionality also supports detailed production histories; lab project management capabilities; cost-analysis inquiries and reporting; integrated quality control; and safety data sheet (SDS) production.
To manage information from any location, encourage cross-functional collaboration, streamline operations and remain competitive, your business needs an integrated ERP system. Empower your workers and teams to perform their best, optimize operations and better serve customers by giving them the right tools for the job.
Datacor is a robust system that integrates ERP with CRM, BI, inventory management and all of the other key functions and benefits we've covered here. It's well-suited for companies in any industry, but also offers specialized functionality designed for the chemical and process manufacturing markets. Learn more about Datacor ERP and Datacor CRM, or download this ERP Software Requirements Checklist to see if Datacor is right for you.
Editor's note: This post was originally published in March 2020 and has been updated for comprehensiveness.