Master Production Scheduling, or the Master Production Schedule (MPS), is a crucial component of chemical and process manufacturing. In order to meet deadlines and fulfill orders, companies in these sectors need to plan ahead — but not just any tools will do.
Enterprise resource planning (ERP) software helps streamline and centralize business processes, and the right system will come with specialized functionality for creating a MPS. Datacor ERP offers graphical, drag-and-drop scheduling tools to help chemical and process manufacturers visualize schedules, manage multiple production resources and easily adjust timelines — designed with the needs of this industry in mind.
In this guide, we'll explain the MPS process along with its benefits and examples of the process in action. We'll also show you how Datacor ERP utilizes this functionality for more efficient, effective and profitable production.
Here's what we'll cover:
What Is Master Production Scheduling (MPS)?
The master production schedule helps manufacturers plan which products to make during certain time periods, and how much of them. With the right MPS software, manufacturers can take demand from real or forecasted customer orders and tell their production departments exactly how to fulfill it, when and in what amounts.
MPS vs. MRP
Material requirements planning (MRP) is a closely related process. The primary difference is that MRP determines how many ingredients need to be ordered to produce a product, while MPS determines when they will be used, and in what quantities.
MRP is the more comprehensive process. To figure out how many ingredients are needed, you first need to determine what the finished product is that needs to be made; what raw materials are needed to make it; and when these materials need to be purchased to fulfill customer orders. (To learn more about MRP, read our comprehensive guide.)
Manufacturers use MRP to plan products that have "dependent" demand: in other words, demand that depends on the items that need to be produced. The MRP process uses the formula, current inventory and the master production schedule to determine how much material needs to be in inventory to stay on schedule. MRP is performed daily to ensure that all needed materials are on hand.
As an example, say a shampoo manufacturer gets a big order. Their MRP tool looks at all the ingredients that go into making shampoo — such as fragrance, colors and surfactants — and tells the user how much of each ingredient is needed, as well as when they need to buy those materials to complete the order on time.
MPS is a subset of MRP that focuses on the "production" part, determining how much of each product to make at what time. Separating these functions out is helpful to manufacturers, since there are typically different people or departments buying the raw materials and actually making the products.
Manufacturers use the master production schedule to plan products that have "independent" demand: demand that comes directly from customer orders, whether those are actual orders that have been placed or projected (forecasted) ones.
In MPS, the production schedule is filled in with specific times, quantities and shifts for each machine or resource. It's performed weekly, based on orders for that week. Done correctly, it helps manufacturers avoid both ingredient shortages and excess materials.
Going back to our shampoo example, MPS plans which pieces of equipment will be used at what times in order to produce the quantities customers have ordered. It helps you plan what you're going to make on which pieces of equipment and at what times.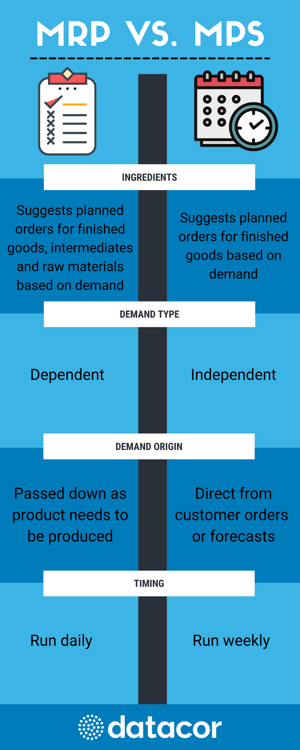 Advanced MPS for chemical and process manufacturers
Datacor ERP supports the traditional MPS environment — but chemical and process manufacturers know that in the real world, planning must be done on a more granular level. That's why Datacor offers advanced MPS, also known as graphical production scheduling: this functionality laser-focuses your equipment schedule, helping determine which pieces of equipment to use, and in what order, to maximize efficiency.
Say that a customer orders 10,000 cases of shampoo, and wants it tomorrow. Your plant may not be capable of supporting that much throughput — but with graphical production scheduling, you can create the most efficient schedule, based on work center throughout, for meeting that demand over the course of the next days and weeks, then give the customer an accurate fulfillment date.
Datacor ERP offers graphical production scheduling so you can visualize production for clearer, easier, more accurate forecasting and fulfillment. As you can see in the screenshots, each piece of equipment is blocked on the calendar, giving production staff a comprehensive view of the schedule and utilization.
1 / 4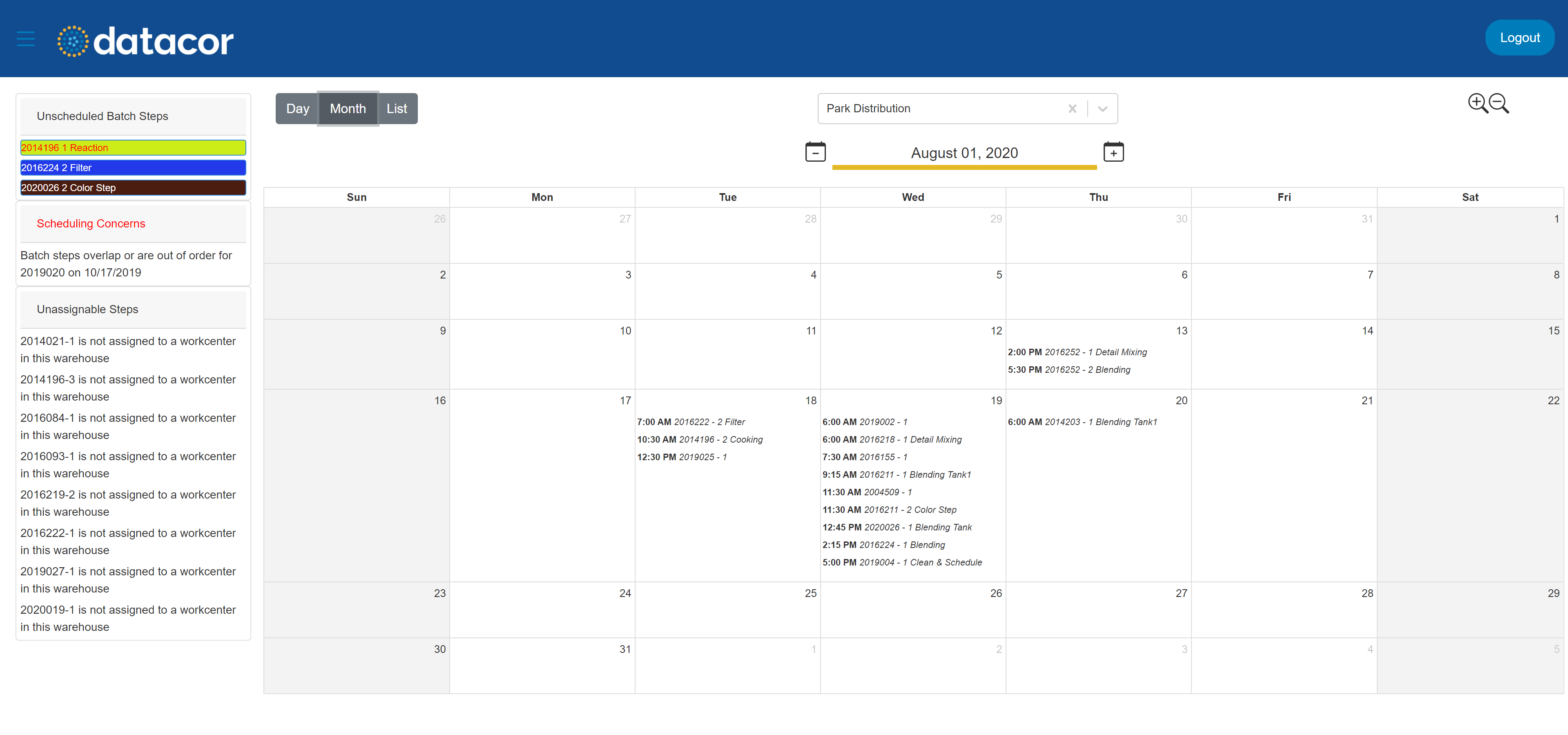 Batch Scheduler - Month View
2 / 4
Batch Scheduler - Day View
3 / 4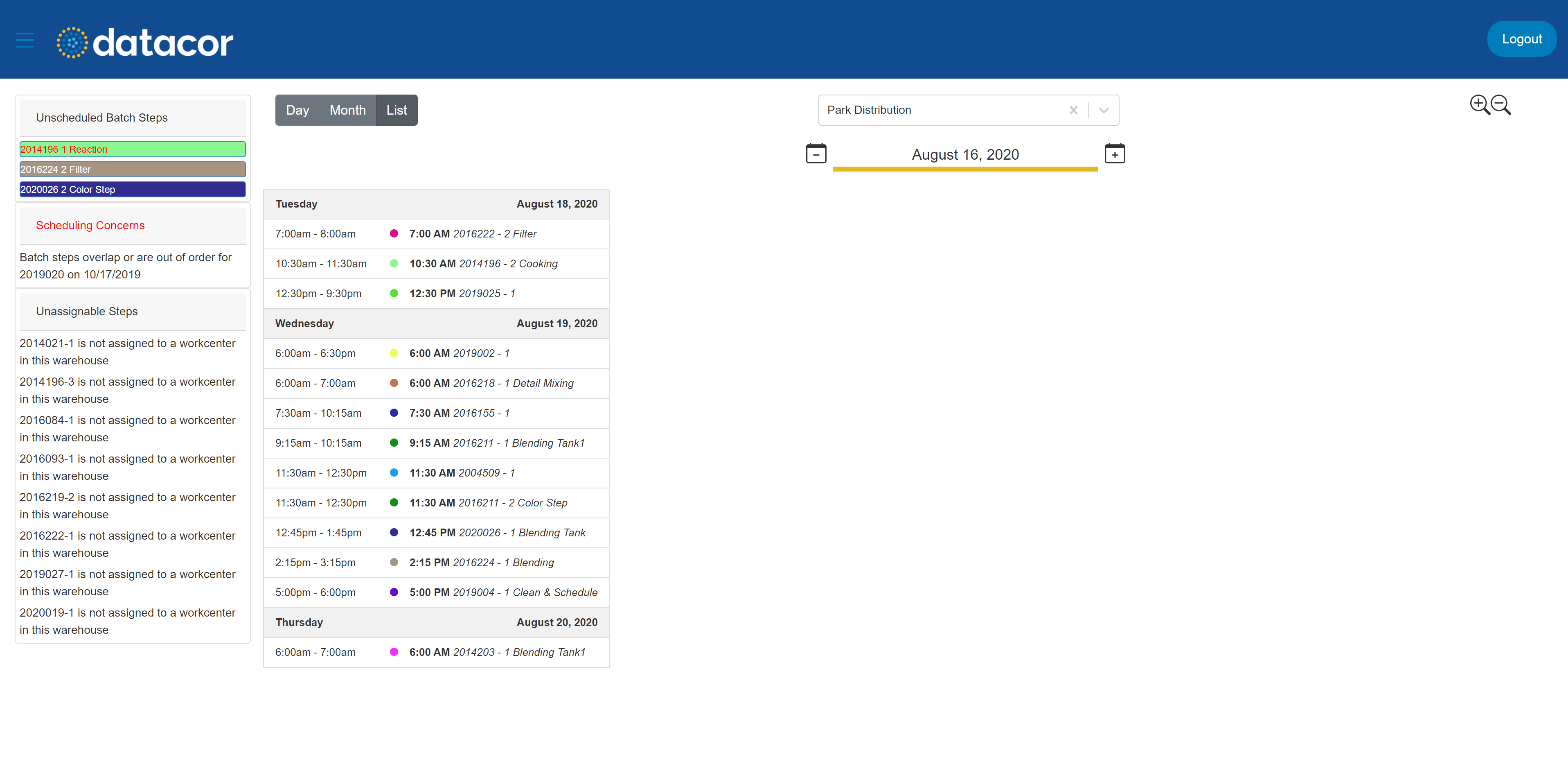 Batch Scheduler - List View
4 / 4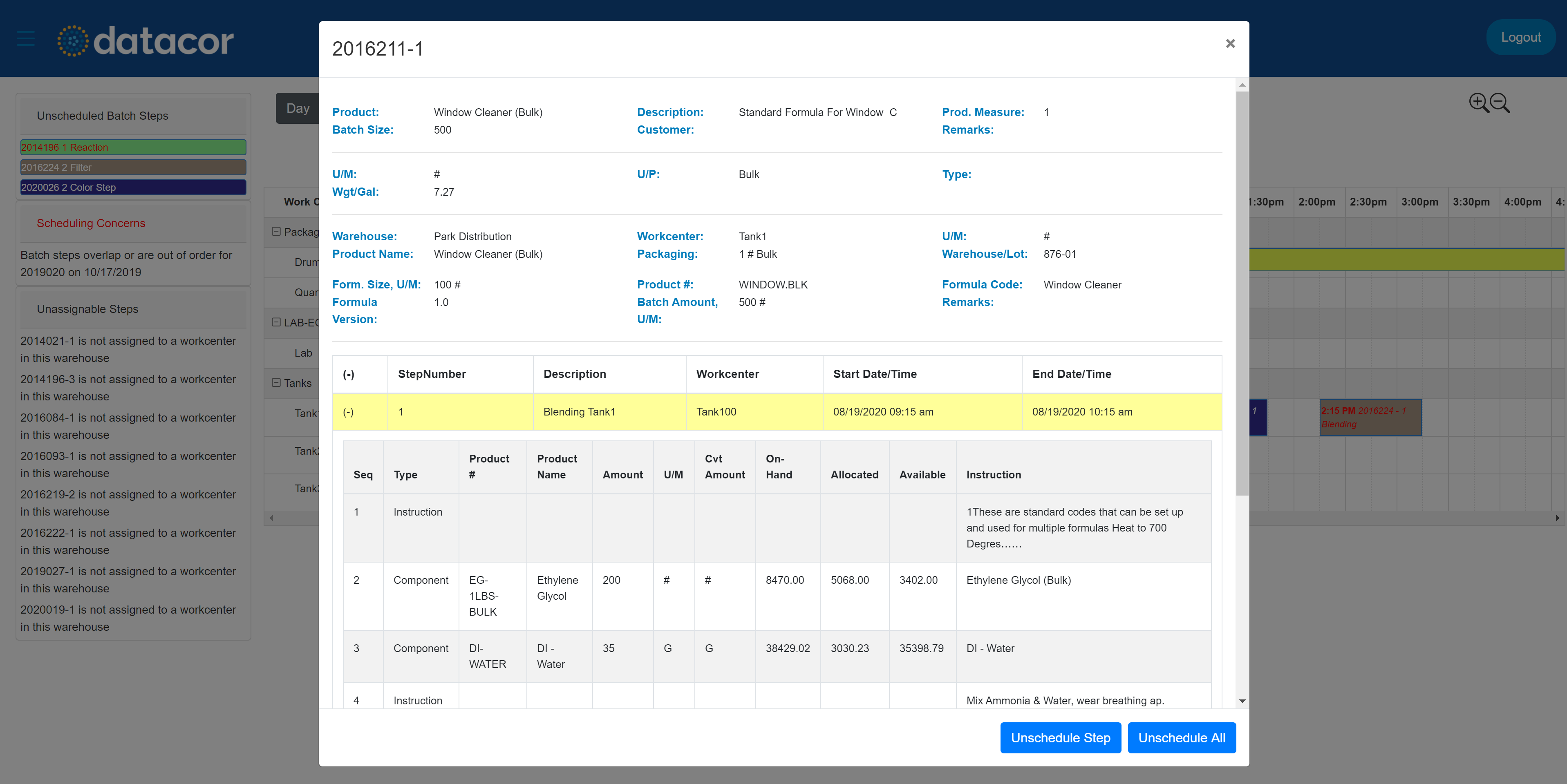 Batch Scheduler - Details View
❮
❯
The software also allows you to drag-and-drop batches in a strategic way. Let's say that your plant produces shampoo, conditioner and floor cleaner, and you have five kettles in which you can blend your ingredients. Shampoo and conditioner can be made in the same kettle, since their properties are similar, but before you switch from personal care products to floor cleaner, you have to clean and sanitize the tanks.
Savvy production staff know what products can be made back-to-back, and can use specialized MPS software like Datacor ERP to set these rules. The software then allows you to optimize scheduling. You can also schedule each piece of equipment independently for maximum utilization — say, designating three kettles for shampoo and conditioner that can run simultaneously, with the two additional kettles being used for floor cleaner.
Benefits of graphical production scheduling
Your production capacity is defined by the equipment available and the time it takes to make each finished good. The master production schedule determines your capacity, enabling accurate projections and rapid order fulfillment.
When it comes to production, the bottleneck is almost always equipment — whether it's a blending tank or a filling line, throughput is limited by the capacity of the machinery at your disposal. But effective scheduling can help you maximize that capacity, increasing accuracy, meeting customer demand and saving time and effort for staff.
This targeted functionality works hand-in-hand with MRP tools, projecting the exact date that material orders need to be placed—based on the suppliers' lead time and the time it will take to produce each batch on each piece of equipment—to fulfill the order.
For example, if you know you can't start on a batch of shampoo until next week because the equipment is being used for something else, you don't need to order your raw materials until later this week. This also helps optimize warehouse space and reduce excess inventory.
The ability to track production schedules down to the level of each component, batch, work center and piece of equipment gives chemical and process manufacturers the fine-grained control they need to stay competitive and ahead of customer demand, driving repeat business.
Want to see how this works? Sign up for a personalized demo today.